One of the biggest oversights when the PlayStation 4 initially came out was not offering any support for Bluetooth headphones.
Wireless headphones are especially useful for gaming, and many people prefer them over wired options.
While the PS4 doesn't offer native support for Bluetooth headphones, is there still a way to connect your Airpods to the PS4?
Yes, there is a way to connect Airpods to a PS4, but it is not easy. This article will explain in detail the process required to pair or connect Apple's Airpods to Sony's PlayStation 4 so that you can enjoy wireless gaming audio.
Why Connect Your Airpods To The PlayStation?
Since their release, the hype surrounding Apple's Airpods has been insane, and when Apple introduced the Airpods pro, that hype only grew.
They provide you the best of both worlds: comfort and quality, two features you should never have to sacrifice. The fact that they are elegant and fashionable wireless earphones puts them at the top of the list.
When you predominantly use Airpods for a long time, there's this genuine sense of unease when you're using another pair of headphones.
It's a bonus that they're incredibly comfortable and feature high-quality sound, which is essential for gaming. 
However, aside from the high-quality audio, what makes a major difference is the microphone quality. When you're in an intense game with your friends, one of the most important aspects is communication.
It's incredibly frustrating when you're trying to pinpoint the exact location of an enemy, and they can't hear you properly. Decent communication is paramount towards having fun while playing online.
Thanks to the myriad of high-quality features the Airpods boast, almost everyone with a pair wants to connect them to their PS4.
How Do I Connect My Airpods To My PS4 2020?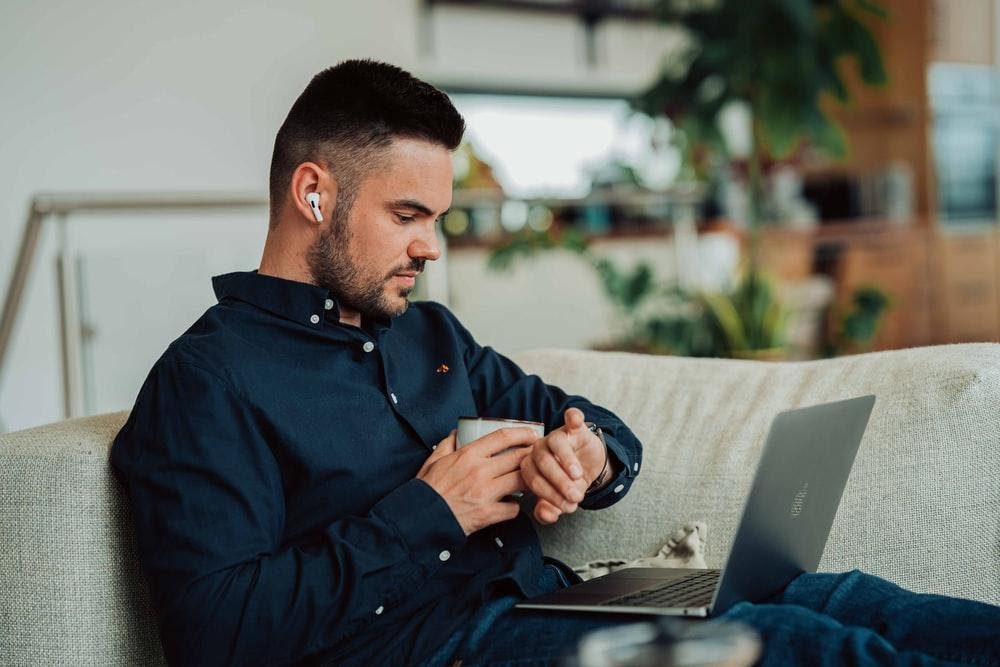 Sony's PlayStation has always been a household name in the tech and gaming industry, having millions of people playing it since the first one was released.
No matter the age, after a long and tiring day, nothing may sound better than turning on your PS4 and gaming for a couple of hours. 
Nonetheless, the process of connecting Airpods to a PS4 might be a difficult operation, particularly if it's your first time.
It's not as simple as plugging in Airpods to use them with a PlayStation 4. While Apple's Airpods provide superb wireless audio, the PS4 does not support Bluetooth audio. Try it for yourself. 
Put your AirPods into pairing mode
Head to Settings > Devices > Bluetooth Devices
Scroll down until you see your Airpods
Try pairing them
PS4 will recognize them as an audio device
Finally, the PS4 will alert that Bluetooth audio is not supported
As Sony's PS4 makes it difficult to connect third-party wireless headphones or earphones, workarounds are required. Although some options may be easier than others, it is important to note there are many different ways you can pair Apple Airpods or Airpods pro to a PS4.
Even though some of these workarounds might seem complex, it's definitely worth the hassle. You won't have to deal with any annoying wires and will be able to enjoy a high-quality gaming session. 
Can I Connect Bluetooth Headphones To PS4?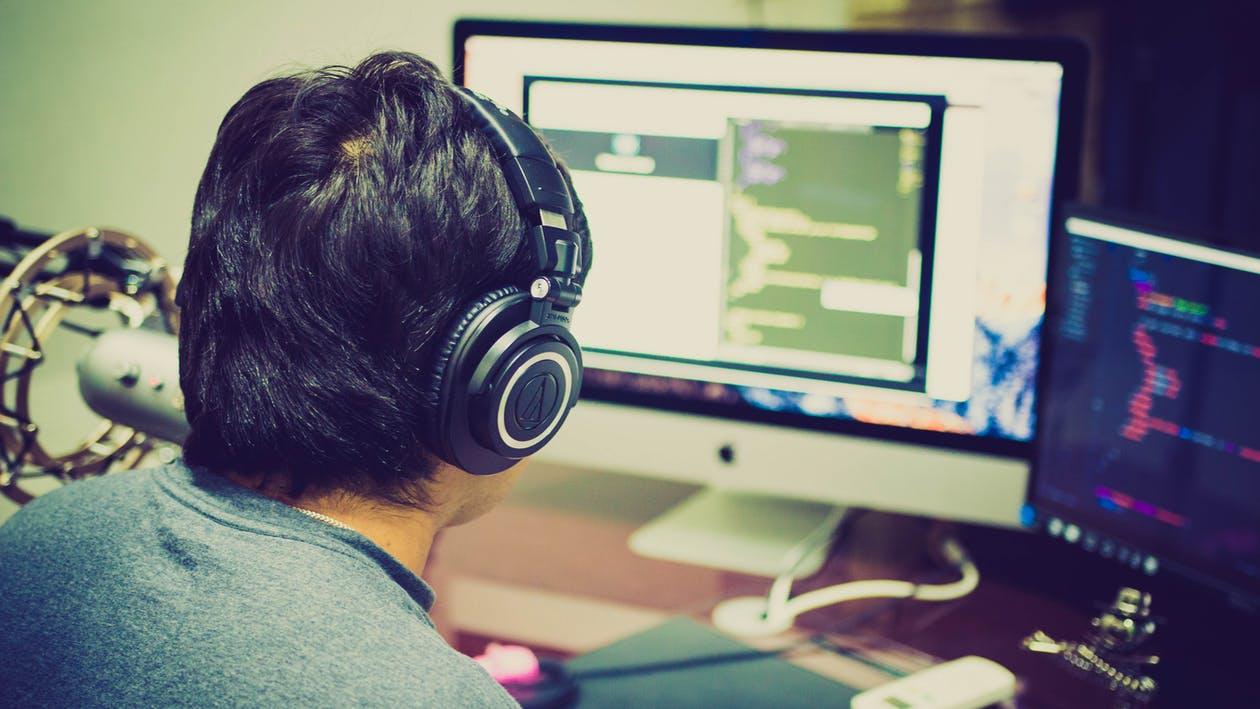 You can connect your Bluetooth headphones, such as Airpods to the PS4. One of the easiest ways to connect or pair your Airpods to a PlayStation 4 is via a Bluetooth adapter.
While there are many Bluetooth adapters available on the market, their price does tend to vary. However, the process of connecting a Bluetooth adapter with the PS4 and Airpods is super simple.
Here are two ways you can do so: 
Connecting A Bluetooth Adapter to the PS4
Step 1: Firstly, turn on the PS4 and plug the Bluetooth adapter into the PS4's USB port or the PS4 controller's headphone jack depending on your Bluetooth adapter.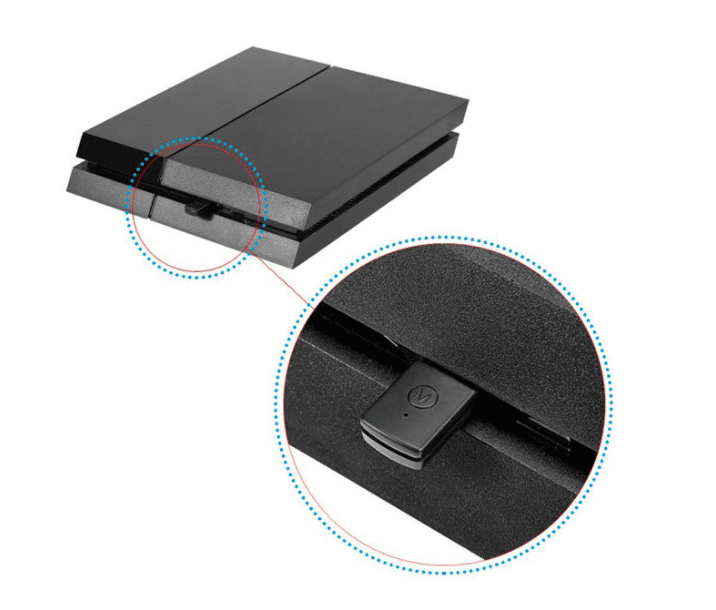 Step 2: After that, you will have to put the adapter into pairing mode. You can find out how to put the adapter into pairing mode by reading the manual.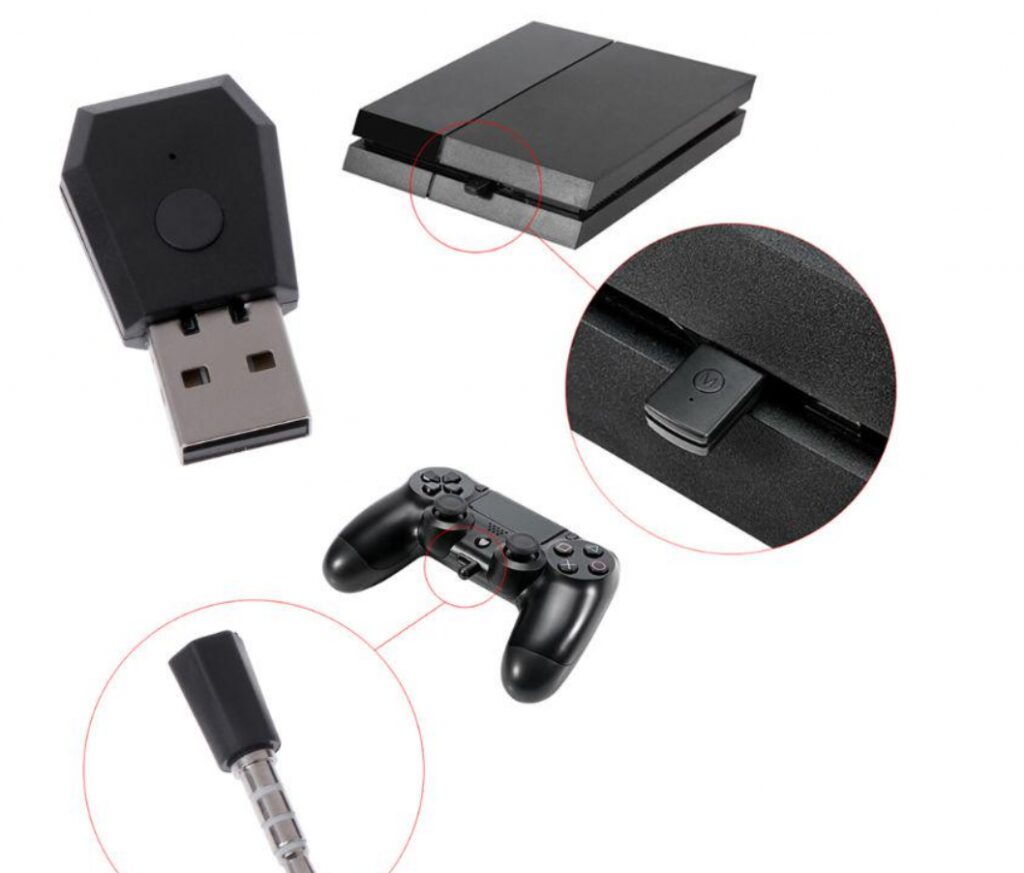 Step 3: Then press and hold the pairing button located on the back of your Airpods charging case. When the LED at the front of the Airpods case starts blinking, your Airpods are in pairing mode.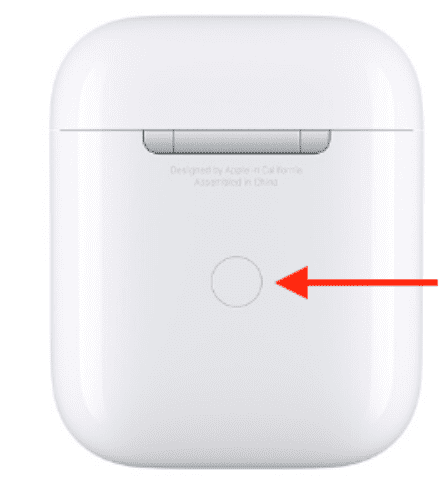 If done correctly, the PS4 will automatically pair with it. Once the pairing is complete, a confirmation message will display on the screen to confirm the connection between your Airpods and the PS4.
Connecting via the TV
Another way to use the Bluetooth adapter is to connect your Airpods and PS4 via the TV. This is helpful if your PS4 doesn't support your Bluetooth adapter.
For this method, your TV should have auxiliary support such as a 3.5mm headphone jack or a USB port depending on the Bluetooth adapter.
You can use a Bluetooth adapter to route audio from the television to the PS4. The process is simple, as you would normally connect the PS4 to the television with an HDMI cable. After that, plug the Bluetooth adapter in the TV's USB port or headphone jack, depending on what connection method the adapter uses.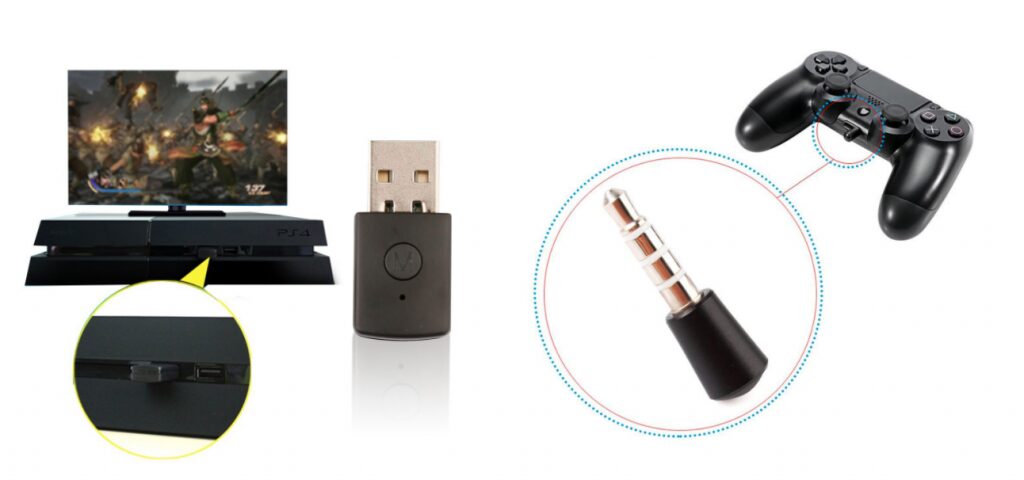 Then, you'll have to put the adapter in pairing mode and press and hold the pairing button located at the back of your Airpods charging case.
After that, the Bluetooth adapter and Airpods will connect automatically to each other, enabling the audio from the PS4 through the TV and to your Airpods.  
However, through the alternate connection method, there's one major disadvantage that you'll encounter. You won't be able to communicate with your friends this way. However, if you're playing a single-player game, you'll enjoy the full experience even after connecting to your TV.
How Do I Connect My Airpods To My PS4 For Free?
To connect Apple Airpods to a PlayStation 4 for free use the remote play app for iPhone and Android smartphones. The remote play app allows access to gaming on the PS4 via Wi-Fi directly on your phone, as long as it is connected to a Wi-Fi network.
Alternate Ways To Use Airpods With The PS4
Remote Play on Smartphone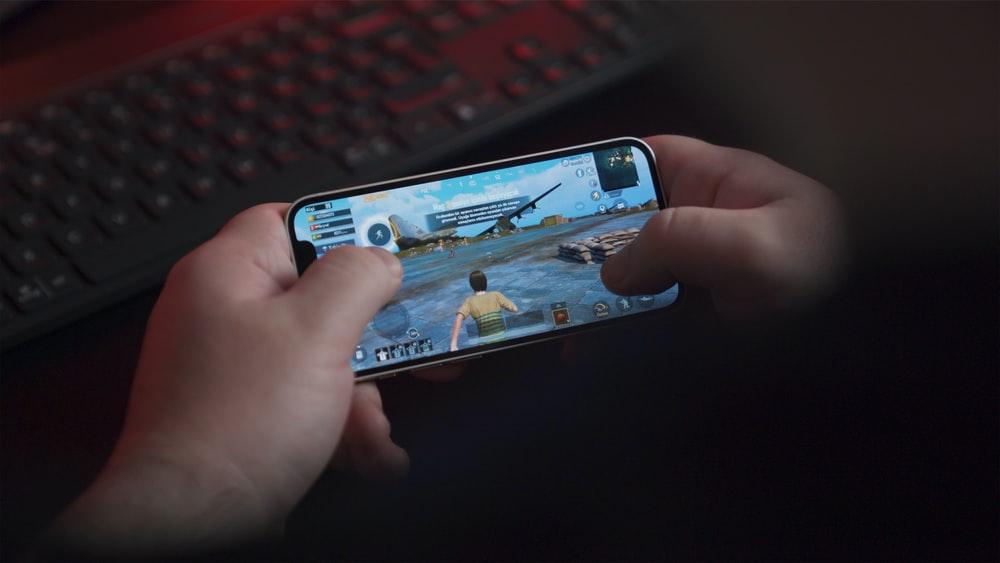 This method allows you to play PlayStation games on your smartphone, which means you will be playing on your phone while using your Airpods or Airpods pro as headphones. To begin the process, firstly, turn on your PS4 and sign in to your PlayStation account.
Before proceeding any further, download the PS4 remote play app on your phone, open the app and sign in to your PlayStation Network account.
Once you have logged in on the app, it will start searching for your PS4. Be patient; it may take a few minutes for remote play to connect. 
After your smartphone has connected with the PS4 via the app, you'll have the option to connect your controller to your smartphone. To do this, go to your phone's settings menu, then to Bluetooth settings.
While doing this, press the share button and the PS button on your controller. When your press the share button, the controller will switch to sharing mode. After your controller is on sharing mode, it'll show up on the list of devices available to pair on your smartphone. Select it from the list, and your controller will pair with your phone.
Once your controller is connected, the next steps in the process are super simple. You just have to connect your Airpods like usual. Go into the Bluetooth menu on your phone to connect. If you have an iPhone, the Airpods or Airpods pro will automatically connect when you open the apple Airpods case. After all these steps, go back to the PS remote play app and play any game of your choice.
Remote Play on Laptop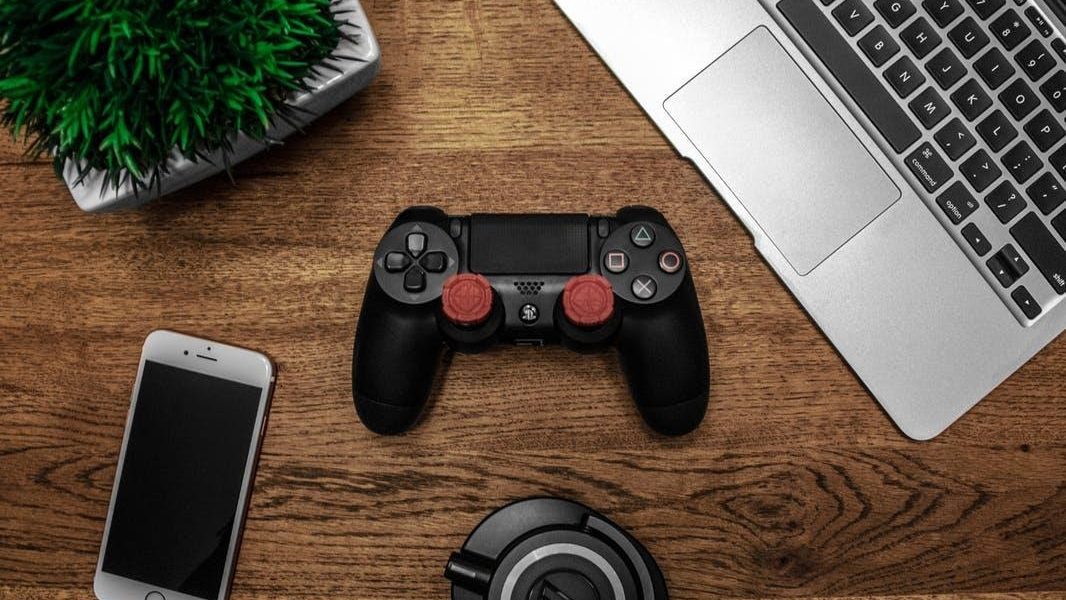 You can also use remote play on your laptop. Simply download the remote play application on your laptop and sign in to your PlayStation account. If your PlayStation is on the same Wi-Fi network as your laptop, it'll connect automatically. 
After that, you can connect your headphones to the laptop and engage in an intense gaming session.
Also Read : Best GameCube Controller Adapter 
Conclusion 
It's still surprising that Sony didn't choose to offer native support for Bluetooth headphones, but that doesn't mean people with Airpods should lose hope.
On the contrary, there are plenty of different ways you can connect your Airpods to your PlayStation 4.
After connecting, you'll find it difficult to switch to any other headphones for gaming!