Filip Benkovic joined Celtic on a one-year loan deal on transfer deadline day last summer. There was seemingly no space for the 21-year-old at Leicester City. However, after six months in Scotland, the defender is already eyeing a swift return to the Premier League.
Benkovic joined the Foxes after a decade at Dynamo Zagreb. There he established himself as an elite defender, with a knack for goals. After making his debut for his club in 2015, he became an important player in Zagreb. No surprise Leicester had no qualms coughing out £13m.
The Croat's Premier League adventure ended even before kickoff. Claude Puel was over-stocked at the back with Harry Maguire, Johny Evans and Wes Morgan. Celtic offered solace. Benkovic gladly obliged. The move is already proving to be shrewd.
Benkovic has played 22 times for the serial Scottish champions, including four times in the Europa League. Aside marshalling the defence with aplomb, he's chipped in with two goals.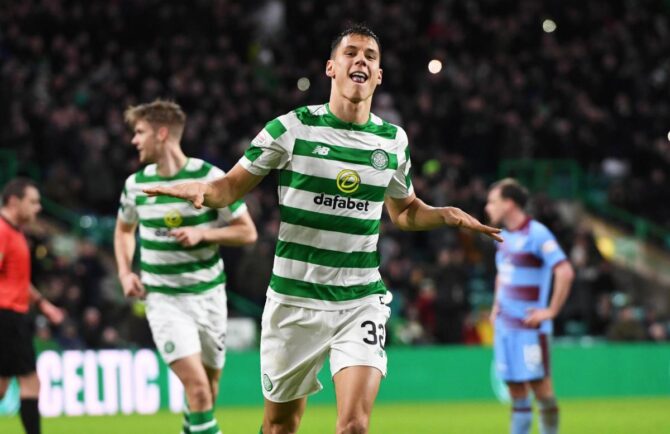 Standing nearly 6ft 4ins tall, Benkovic is imposing himself on strikers. His versatility has also proved to be a key asset. The 21-year-old has played across the centre-back positions and shown that he can utilise both feet.
An obvious threat from set-pieces, Benkovic has the coordination to meet crosses with well-timed runs thus wrecking panic in the penalty area. Above all though, he is composed on the ball, holding possession whenever needed and rarely rushes to move the ball.
The player is already dreaming of the Premier League.  "Here, I've played a lot of high-level games, which has helped me a lot," Benkovic told Croatian outlet Sportske Novosti. I want to make another step at the end of the season.
I want to show that I can play in the English Premier League. But I want to emphasise that I still have to make progress. I can still do a lot of work on my game to be an even more complete player, I just need to work.
"I cannot wait for new challenges, I want more challenges, I set very high goals. I'll do absolutely everything to reach them."
Is he ready? sure he is.