Liberian George Oppong Weah is the only African player in the history of to have ever won the FIFA World Footballer of the year award. The Ex-AC Milan and Monaco forward was a special kind of African breed that catapulted him to the pinnacle of the beautiful game of football which has also made George Weah's net worth skyrocket.
The net worth of the Liberian went up when he retired from football as he became a businessman and then delved into politics where he presently serves as Liberia's president.
Before you can have an understanding of Weah's current net worth, though to be around $30 million, it is best traced from when he joined a European side as a young footballer. Former Arsenal manager Arsene Wenger brought the Liberian to Europe and handed him the major breakthrough he had in football.
The French tactician signed him to French Ligue 1 side AS Monaco back in 1988 and later represented many clubs in Europe earning huge wages.
The big transfer to Monaco opened doors for Weah to get to climb greater height coming from a footballer moving from the black continent straight into a big European side under a top-class football manager.
Early days & football career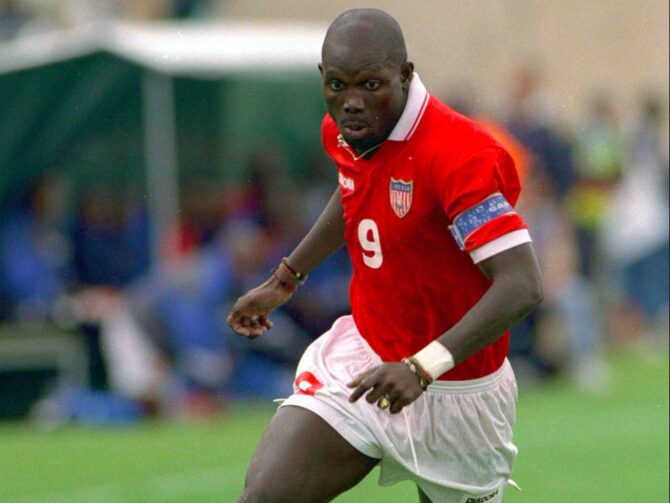 Weah was born on 1st October 1966. He had played for local clubs in Africa for four years before he made the big move to Europe where he stayed and play the game for fourteen years. In Europe, the current president of Liberia shattered many football records. At French club Monaco, he played and earned himself a name at the club, playing for the club for seasons and netting 66 goals in 149 matches.
Weah's incredible records caught the attention of rival clubs in the league. Paris Saint Germain offered him a deal, which he accepted and secured a transfer and became a superstar footballer, spending three unforgettable years and scoring 54 goals in 138 matches for the Paris-based side. Weah moved to Serie A side AC Milan in 1995 and instantly became a footballer that causes a serious threat to defenders in the league.
The African won the French league title that year under Italian tactician Fabio Capello and hugely influenced the incredible dominance of Milan in the Serie A league that period, along with Italian great Roberto Baggio. Weah lifted one more Serie A title with AC Milan and finished second in the Italian Super Cup on two occasions. Weah's success in Europe impacted positively on his net worth.
The goal-scoring mastery of Weah continued to make the headline whenever the African starts for the side and one noteworthy goal that seems to be his symbol was the one he scored against Italian club Hellas Verona by dribbling the length of the entire field from his side box 18 to Verona's 18-yard box before scoring with a great solo goal.
The year Weah joined AC Milan was a huge year for the Liberian as a footballer as he was crowned the FIFA Footballer of the Year as well as the Ballon d'Or that same year. The African had brief spells in the English Premier League with West London club Chelsea and Manchester City before he hung his boots in the year 2003.
Life after football
In 2005, Weah's love for his country made him delve into politics and ran to become the president of Liberia after long years of Civil War in the African country.
That year, the former World best player contested for lost the seat to Ellen Johnson Sirleaf but went on to contest for a senatorial seat in 2014, which he won. Weah's loss in the 2005 presidential election showed the former footballers lack political experience and he came back better and stronger. In 2017, the former Ballon D'Or winner won the presidential election and currently serves as the first player to be the president of Liberia.
His business and Presidential seat add to his array of things that have made up his massive wealth. With Weah's current presidential role, he pockets $2 million.
He is one footballer a lot of Africans look up to as he is a role model for a lot of people who want to use their fame and influence to change the political sphere in their nation and in the process amass legal wealth for themselves.