Digital photography has changed how we save photos. While printing them is still an option, saving them to a flash drive or storage device is more prevalent.
There's plenty to consider when saving all your photos as you need to ensure adequate storage space, transfer data is quick and simple, software compatibility, and more.
Since a USB drive is a common method for saving all the photos and videos from your phone or camera, we thought we would compare two popular ones,
the Albumsaver and the Photo Stick. We'll research how these two USB sticks keep photos and videos safe for a lifetime of memories with a simple portable device. Let's break it down.
Albumsaver Explained

Let's give Albumsaver a minute of our time. Albumsaver saves all photos and videos with a simple USB stick. It is available for both MAC and PC users. Unlike a regular flash drive, the Albumsaver formats pictures and videos in a specific way to enable it to hold more storage. This portable device comes in various options depending on your required data backup.
8GB – 4,000 saved photos and videos – available for $31.99 (regular price is $49.99)
64GB – 35,000 saved photos and videos – available for $44.99 (regular price is $79.99)
128 GB – 70,000 saved photos and videos – available for $69.99 (regular price is $159.99)
With the Albumsaver device, there is no need to download additional software before using it. Simply plug it into the USB port on your computer and click save to start your data backup. Transferring files to friends and family is easy with Albumsaver, so you can share precious memories instantly. It also deletes duplicate files to help save storage space on the USB stick.
Another great thing about the Albumsaver is it takes physical photos and converts them to digital. Scan your photos onto your computer and then upload them to this USB storage device to protect physical photos from damage.
Pros
Has a large storage capacity for both photos and videos
Compatible with PC and MAC operating systems
Easy to transfer files to others
Organizes saved photos, making them easy to locate
Converts physical photos into digital
Small and lightweight device for easy storage
Cons
Only available online via limited sources
Not compatible with mobile devices
Photo Stick USB Storage Device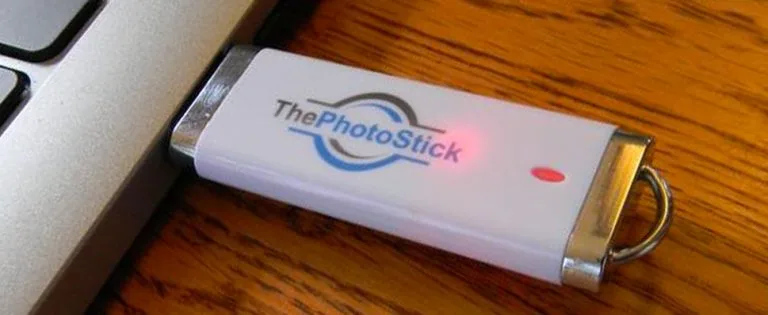 In case you missed our Photo Stick review, we'll give you a bit of information about how the Photo Stick works and compares to the Albumsaver device. The Photo Stick is a flash drive that works to back up photos and videos. It helps clear memory space on your desktop or mobile device while keeping saved photos safe and secure.
This memory stick features three different options. The computer Photo Stick plugs into the USB port of your desktop to easily transfer data. The Photo Stick mobile option transfers photos and videos from any mobile device. Finally, the Photo Stick OMNI works for desktops and mobile devices with one easy-to-use flash drive.
Let's break down the Photo Stick OMNI's storage space and pricing.
32GB – 15,000 saved photos and videos – available for $59.99 (normally $94.99)
64GB – 30,000 saved photos and videos – available for $79.00 (normally $114.99)
128GB – 60,000 saved photos and videos – available for $99.99 (normally $134.99)
256GB – 120,000 saved photos and videos – available for $149.99 (normally $185.99)
The Photo Stick offers more storage capacity than the Albumsaver with the 256GB option. One of the main features is the autoscanning option to find photos, videos, and music without making you manually search through folders to find your files. That said, if you prefer to upload photos to the Photo Stick manually, you can do so by choosing manual scanning.
The Photo Stick OMNI is simple and works by plugging it into the USB port on your desktop or mobile device. Never worry about your photo albums with this secure flash drive. This USB drive doesn't require additional software installation and removes duplicate files for maximum storage.
Pros
Massive storage capability for photos and videos
Autoscan option for quicker download to flash drive
Lightweight device for easy storage or travel
Many different devices available for both mobile and desktop
Fast data transfer
Weekly back-up for all the files
Easy to use
Cons
Purchase is only available online
Autoscan may bring over unwanted media files
Will not work with outdated computer software
Which Flash Drive Is Best For Backing Up All Your Photos?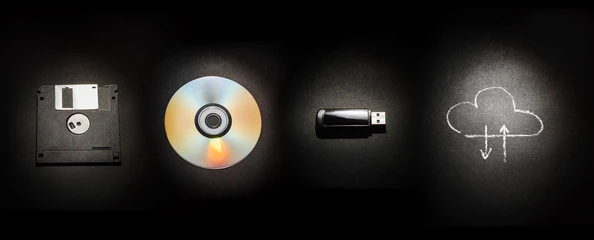 It's hard to pick a clear winner here as the Albumsaver and Photo Stick provide a secure photo and video storage with the help of a flash drive. While the Albumsave is a more inexpensive version, the Photo Stick provides more storage with the 256GB option. The Photo Stick also features an option for mobile devices, including smartphones and tablets. Photo Stick features the auto scan capability to make downloading media files easier and quicker.
With that said, we have to give the edge to Photo Stick as we did in our best photo storage device article. However, either flash drive is an excellent option for a storage device that ensures photos and important files are saved for the long term. Both options offer you a 30-day money-back guarantee if the device doesn't work for your needs. A little extra guarantee goes a long way, in our opinion.