Today's hectic world has left us craving respite, and what better way to unwind than by diving into a captivating browser-based game? With no downloads required, these games offer instant entertainment. So without further ado, let's delve into the 8 best browser-based games that are sure to leave you enthralled!
And if you are a fan of turn-based role-playing games, feel free to check out our top 8 in 2023!
8. Frogger Classic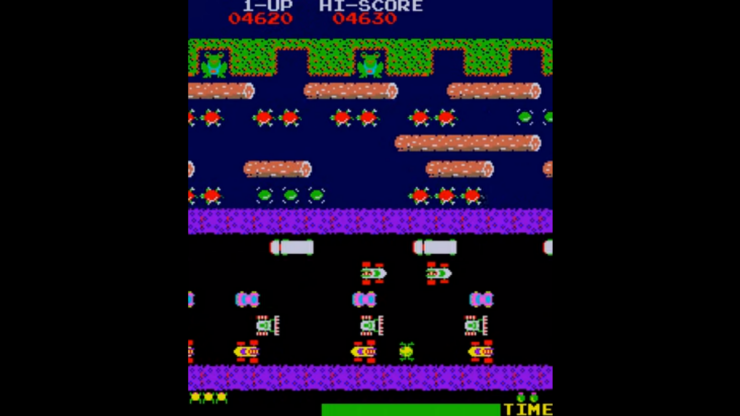 Who doesn't relish a touch of nostalgia? Frogger Classic is the perfect game for reminiscing about the good ol' days. A remake of the 1981 arcade game, it challenges players to navigate a busy highway and a treacherous river, guiding a vulnerable frog to safety. Your reflexes will be put to the test, so brace yourself for a thrilling experience!
As a lifelong fan of video games, it's hard not to have a soft spot for this game. This iconic title brings me back to the days of the arcade when the simple act of guiding a frog across traffic and water was thrilling. While the graphics are nothing to write home about by today's standards, there's something so satisfying about its simplicity. The nostalgic charm of this game never fails to put a smile on my face.
7. Hero Wars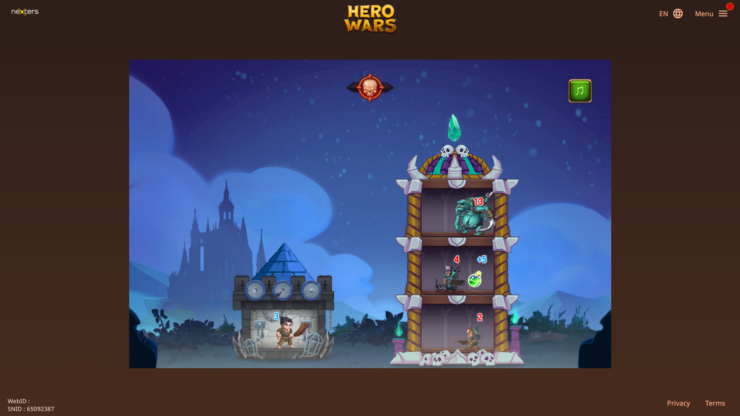 Next on our list, Hero Wars transports you to a mystical realm teeming with adventure. This captivating RPG offers a mix of strategy and action, with players assembling their dream team of heroes to vanquish the forces of darkness. Are you ready to embark on a quest for glory? Well, then, Hero Wars is the game for you!
I've been playing Hero Wars for quite some time now, and I can't help but enjoy the strategy and depth it offers. It's a solid, free-to-play RPG that allows me to collect a wide array of heroes and build a formidable team. The game does have its share of microtransactions, which can be a bit off-putting, but the gameplay and camaraderie between players make it worth my time.
6. Forge of Empires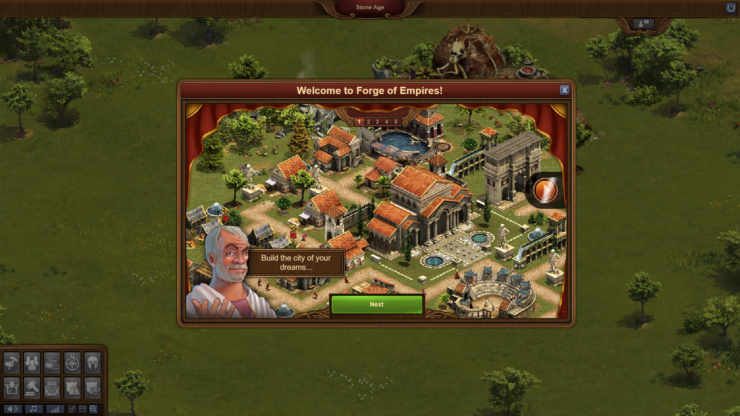 Ever dreamt of ruling your own civilization? Forge of Empires makes that dream a reality! From humble beginnings in the Stone Age, you'll guide your people through the annals of history, developing cutting-edge technologies and constructing architectural wonders. Strategize, trade, and wage war – the fate of your empire is in your hands!
The game has a captivating historical progression system that takes me through different eras, allowing me to build and expand my empire. However, I must admit that the game can be a bit slow-paced, especially if you're not willing to spend real money on in-game resources. Nevertheless, I find myself coming back for more, eager to unlock new technologies and grow my empire.
5. QWOP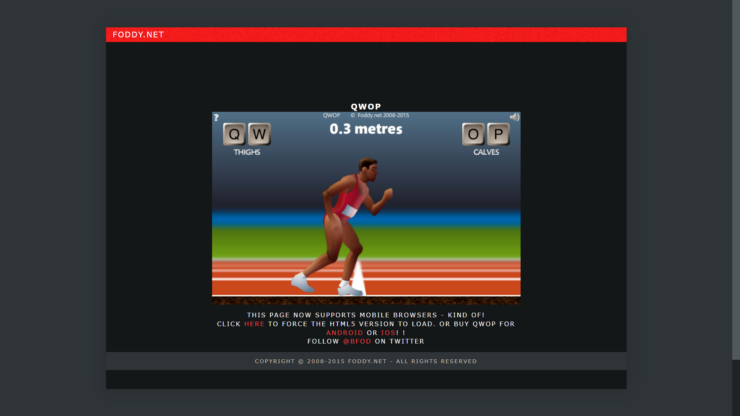 Simple yet oh-so-challenging, QWOP is an amusing take on the world of athletics. As a quirky runner, your task is to traverse a 100-meter track – sounds easy, right? But wait! You'll need to control each limb individually, making for some hilariously awkward moments.
If there's one word to describe QWOP, it's "frustrating" – but in the best possible way. The absurdity of controlling an athlete's legs using the Q, W, O, and P keys is nothing short of hilarious. It's a game that can make me laugh and scream in equal measure, as I struggle to maintain even the slightest semblance of balance. While not a game I'd recommend for long sessions, it's a fantastic choice when I need a quick break and a good laugh.
4. Isleward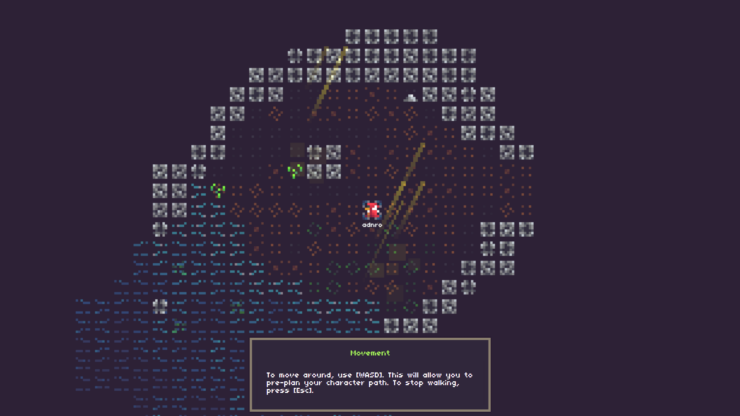 Fans of pixel art, look no further than Isleward! In this mesmerizing MMORPG, you'll explore a sprawling, procedurally generated world brimming with dungeons, loot, and formidable foes. As you battle monsters and complete quests, your character will grow in power. And with a friendly community at your side, the journey is all the more enjoyable!
Isleward has been a pleasant surprise for me. The game has a wonderful mix of MMORPG elements and roguelike mechanics, with a charming pixel art style. The sense of exploration and discovery, combined with the challenge of procedurally generated dungeons, keeps me coming back for more. The tight-knit community also adds to the overall experience, making it a pleasure to be a part of.
3. Snake.io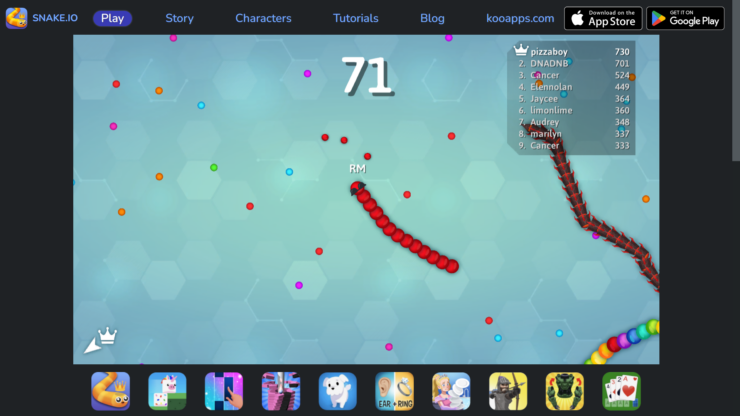 Slithering into the third spot is Snake.io, a modern twist on the classic snake game we all know and love. The objective? Devour orbs to grow your snake while avoiding collisions with other players. With its addictive gameplay and vibrant graphics, Snake.io is perfect for quick breaks and hours-long gaming sessions alike!
I've always been a fan of the Snake game, so when I discovered Snake.io, I knew I was in for a treat. The modern take on the classic, with colorful graphics and online multiplayer, provides a new layer of excitement. However, as much as I enjoy the game, it can be frustrating at times due to the occasional lag and connectivity issues. Despite this, it's a great pick for a quick gaming session.
2. A Dark Room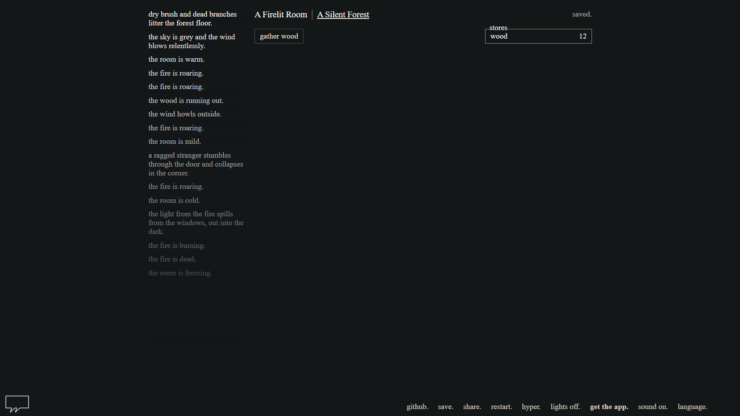 Minimalistic yet enthralling, A Dark Room is a unique blend of text-based adventure and resource management. Starting in a cold, dark room with only a flickering fire for company, you'll gradually unravel a mysterious narrative while gathering resources and managing a growing population. A Dark Room will keep you hooked with its enigmatic atmosphere and engaging gameplay.
The game's simple interface and the mystery of the unfolding story have kept me hooked for hours on end. It's a brilliant example of how a game can rely solely on great storytelling and atmosphere to create a truly immersive experience. A Dark Room is, without a doubt, a must-play for any fan of text-based adventure games.
1. AdventureQuest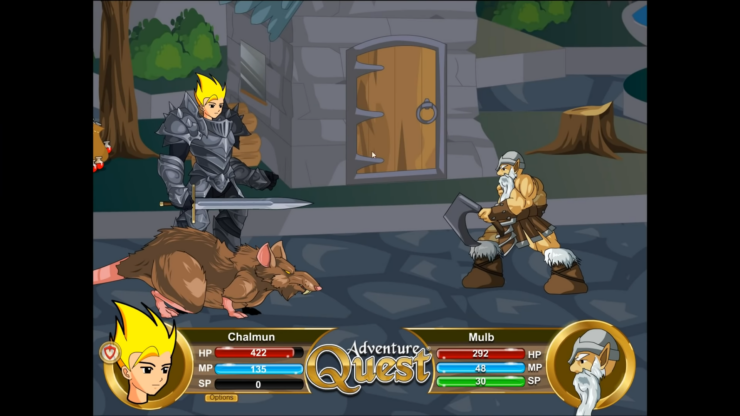 And finally, taking the crown as our top pick is AdventureQuest! This long-standing, beloved RPG offers a rich, immersive experience filled with quirky characters, intriguing quests, and epic battles. With a vast array of weapons, spells, and armor at your disposal, you'll face off against fearsome creatures in turn-based combat. AdventureQuest is an absolute must-play for all RPG enthusiasts.
Trough the game is not completely without download (Artix Games Launcher needed), and because of its quality, it made it to the top of the list. The game's ever-expanding world and regular updates ensure that there's always something new to explore. While the graphics may be dated, the fun gameplay and unique charm of AdventureQuest more than makeup for it.
FAQ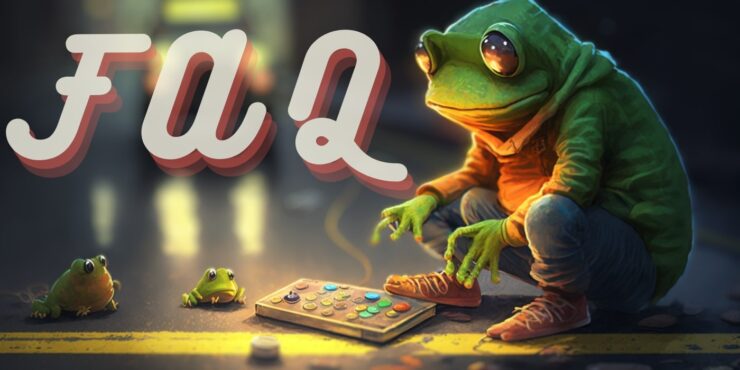 1. Do I need any special software or plugins to play these games?
Most browser-based games do not require any special software or plugins to play. However, some might require you to enable JavaScript or have a specific browser extension installed. In most cases, the game's website will provide instructions if any additional steps are necessary.
2. Can I play these games on my mobile device or tablet?
Most browser-based games are designed to be compatible with a variety of devices, including mobile phones and tablets. However, performance and user experience may vary depending on your device's hardware and software capabilities. We recommend checking the game's website for any specific device requirements or compatibility information.
3. Are these games appropriate for all ages?
Our list of the 8 best browser-based games features a diverse selection of titles that cater to various interests and age groups. While many of these games are appropriate for all ages, we recommend reviewing the game's content and rating before sharing it with younger players. Parental guidance is always encouraged to ensure a safe and enjoyable gaming experience.
4. I have a suggestion for a browser-based game that isn't on your list. How can I share it?
We're always eager to discover new and exciting games to share with our audience. If you have a suggestion for a browser-based game that you believe should be featured on our list, please feel free to contact us via our website. We appreciate your input and will carefully consider your recommendation.
Conclusion
As we reach the end of our journey through the world of browser-based gaming, we hope that our list of the 8 best browser-based games has provided you with an exciting array of titles to explore and enjoy. These handpicked games showcase the diverse range of experiences that can be found within the realm of browser-based gaming, offering a refreshing alternative to traditional downloads and installations.
By embracing the key attributes of human-like, engaging, and context-aware content, our list aims to cater to your unique preferences and interests. Whether you're seeking a short break from your daily routine or looking to immerse yourself in a new gaming universe, our selection promises to deliver hours of entertainment and enjoyment.
We encourage you to share this list with your friends, family, and fellow gamers, fostering a sense of community and connection through the shared love of gaming. As you explore these incredible titles, we invite you to share your thoughts and experiences with us, as we continuously strive to improve and expand our selection of browser-based games.