Do you enjoy listening to music in your office, but need to be aware of the phone ringing or your cubemate speaking to you? Of course, by the office, we mean your kitchen table, and by cubemate, we mean your child who homeschools next to you. After all, it is the year after 2020.
If you like listening to music on a run or bike ride but are hesitant because you can't hear the traffic or other ambient sound around you. Bone conduction headphones might be the answer. With excellent sound quality to jam to your favorite tunes and being more aware of your surroundings, bone conduction headphones give you the best of both worlds.
[lasso type="gallery" category="best-bone-conduction-headphones" columns="5″ link_id="56203″]
As technology advances, more people embrace these headphones as an alternative to regular headphones that fit into your ear. Let's review and get started.
What are Bone Conduction Headphones?
Bone conduction headphones are probably different from the headphones that you use. Regular headphones pass sound through the air, into the outer ear, through the eardrum, where the vibration of the cochlea (hollow bone found in the inner ear) enables our brains to interpret the sound.
While bone conduction headphones cause vibration in the cochlea, they do it by vibrating through the cheekbones, bypassing the outer ear and eardrum. Instead of wearing them in your ears, they are worn right outside your ear next to your cheek.
Because of this, you can still hear what's going on around you. Think of it like listening to the radio in the car but still being able to hear traffic or someone speaking to you. Most people love their bone conduction headphones for this reason.
It is also safer for people who like to run and bike to be more aware of their surroundings.
Studies have shown that bone conduction headphones are optimal for people looking for both music entertainment during workouts and increasing their safety by hearing ambient noise around them. If you have ever run or been on a bike in traffic with headphones, it's nerve-wracking not to listen to what is going on around you. Bone conduction headphones take away that worry.
Sound Quality
If you are concerned about sound quality, we are here to ease your mind. While bone conduction headphones will not have the same sound quality as really high-end expensive earbuds, it's just the bass that might be a little harder to hear.
They are still fantastic, especially for people motivated by music for their workouts or those who need music while working in the office. Your co-workers will know you aren't ignoring them, but you will still reap the benefits of music helping you concentrate on an assignment.
Are they Safe?
These headphones are as safe as regular headphones. It's like everything else in life. Moderation is key. Any kind of headphone that exposes you to high volume noise for too long can result in hearing damage. Even though the bone conduction headphones bypass the eardrum, damage to the cochlea can occur just like regular headphones.
However, when used at a standard volume, bone conduction headphones are a crowd favorite. Some even argue that they are more hygienic because they don't go into your ear canal. No nasty earwax is a win!
Would Someone with Hearing Loss Benefit from Bone Conduction Headphones?
Whether or not these headphones would work for someone who is deaf would depend on the cause of their hearing loss. For the most part, there are two types of hearing loss. Sensorineural hearing loss occurs when there is an issue with the cochlea or something higher inside the ear.
For those people, hearing aids or conduction headphones would not work. Sometimes they can benefit from a cochlear implant that allows them to process sounds.
The second kind of hearing loss is known as conductive hearing loss. In this case, there is an issue with the middle or outer ear being able to transmit sound properly. For those with conductive hearing loss, bone conduction headphones work well as a hearing device.
Best Bone Conduction Headphones
Now that you understand more about how these headphones work, it's time that you purchase a pair of bone conduction headphones to give them a try. We'll go through a list of our favorites and give you all of the pros and cons. Grab a cup of coffee and relax while we shop for you.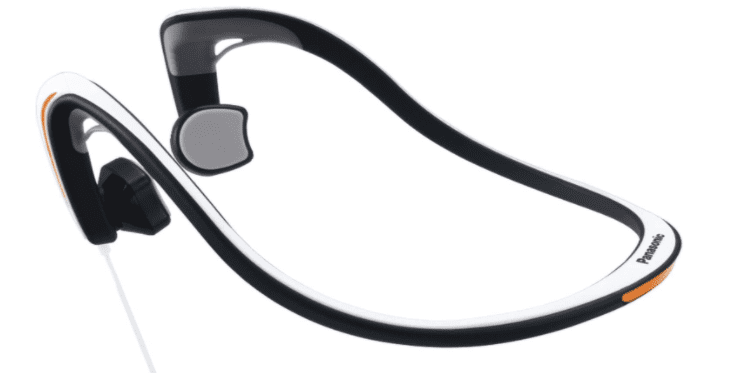 While Panasonic offers several bone conduction headphone options, this one is the most popular. They are water-resistant (to include sweat) and have a comfortable fit at a reasonable price. No batteries are included as they plug in, so you don't have to worry about charging them.
Made with bright, reflective colors, they are great for visibility at night while walking, biking, or running. Rounded out by being lightweight and easy to slip on, they are an excellent choice at $79.99.
Pros
No batteries, so no charging required
Very affordable
Excellent for the workplace
Fabulous bone conduction headphones for first time buyers
Good for running
Cons
Some reviews stated that the headphones aren't as loud as some alternatives
Some issues with sound quality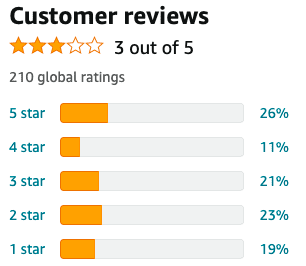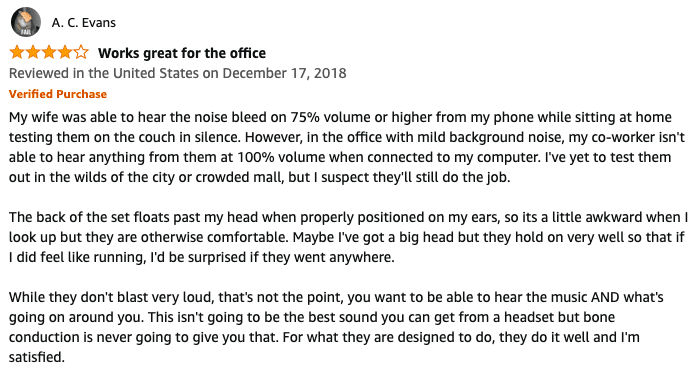 [lasso ref="panasonic-rp-hgs10-w-open-ear-bone-conduction-headphones-with-reflective-design-white" id="5033″ link_id="56204″]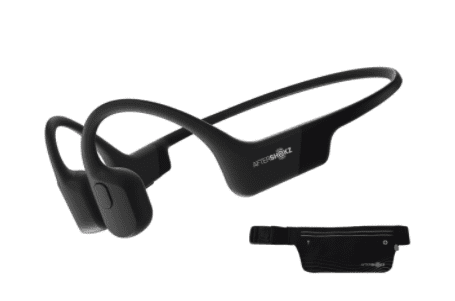 This bone conduction headphone is the most popular on the market, and there are several great reasons why. With Bluetooth 5.0, take calls easily while on the go. Listen to music and skip back to a previous track with simple commands.
With an IP67 waterproof rating, sweat, dust, and getting caught in the rain are never a worry. They can sustain most moisture except swimming. These wireless bone conduction headphones will give you 8 hours of battery life. The Aftershokz Aeropex headphones are lightweight and comfortable, perfect for athletes.
These bone conduction headphones come in two sizes for a perfect fit. The Aeropex mini has a half an inch shorter band. Priced at $159.95, you get the best bone conduction technology with this pair of headphones. Complete with a two-year warranty and a 45-day money-back guarantee, you know you are getting your money's worth with this purchase.
Pros
The best bone conduction headphones on the market
Balanced sound and good bass
Perfect for all workouts/exercise
Very comfortable and lightweight fit
Easy commands are a great addition
Cons
Some reviews were unhappy with the battery life
Some complaints from users of random disconnecting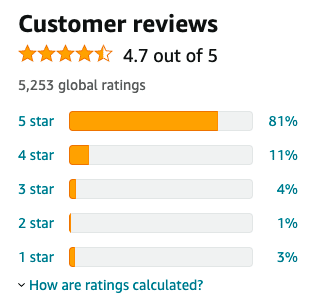 [lasso ref="aftershokz-aeropex-open-ear-wireless-bone-conduction-headphones" id="558″ link_id="48530″]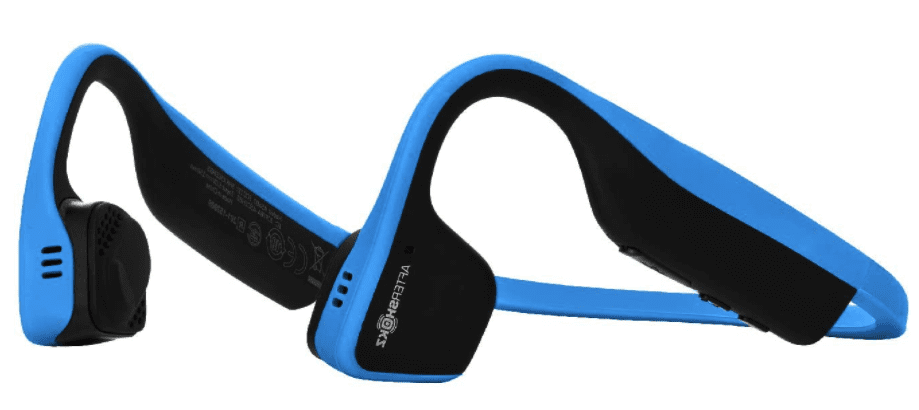 If you checked these headphones out already, you might have noticed that they have been discontinued. They are still available on Amazon until all inventory is gone. These bone conduction headphones were the initial breakthrough headphone for Aftershokz.
The Aftershokz Trekz Titanium, or simply the Aftershokz Titanium, have been replaced by a newer model called "OpenMove." The titanium wraparound headband is lightweight, comfortable, and durable. It comes with PremiumPitch+ giving you an incredible audio experience. The wireless headphone has Bluetooth 4.1 connectivity, Leakslayer technology that reduces sound leakage, and is IP55 certified water-resistant. With a battery life of 6 hours and a two-year warranty that will still be honored despite being discontinued, these bone conduction headphones are valued at $79.95.
Pros
Great value
Good sound quality
Durable and quality headphones
Easy to hear others and other ambient sounds
Cons
Some complaints about the headphones not fitting properly
The volume doesn't go as loud as some competitor's models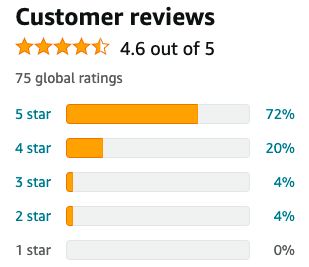 [lasso ref="aftershokz-titanium-bone-conduction-wireless-bluetooth-headphones" id="518″ link_id="650″]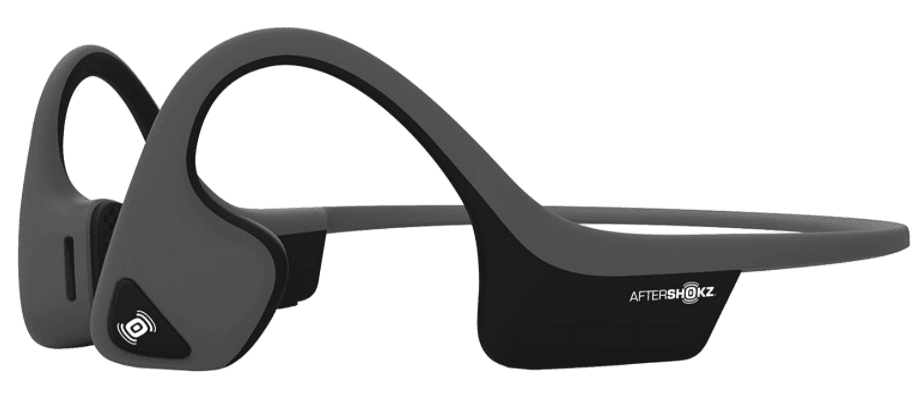 This mid-range model headphone is valued between the Aftershokz OpenMove model (former Trekz Titanium) and the Aeropex model. The Aftershokz Air comes with quality sound and is made with a titanium wrap-around band, so they are ultra-durable.
Known as the headphone for people who are always on the go, they are perfect for people with busy schedules as well as athletes. These Bluetooth open ear headphones come with a dual noise-canceling mic and give you six hours of battery life.
Always feel aware of your surroundings with the Aftershokz Air headphones while still enjoying your favorite music, podcast, or audiobook. Accessible commands to play, pause, skip or go back a track make them easy to use. At $119.95 with a two-year warranty and 45-day money-back guarantee, this pair of headphones is an excellent buy for those wanting a solid headphone at a reasonable price.
Pros
Great to hear ambients sounds and traffic when running or cycling
Super lightweight
Comfortable fit
Good sound quality
Long battery life
Cons
Some reviews say that one size does not fit all
Some reviews mentioned that the headphones failed after one year, but the warranty covered a new pair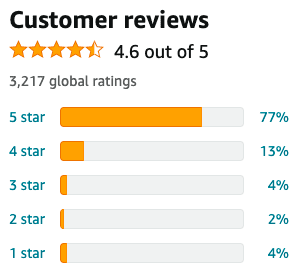 [lasso ref="aftershokz-air-open-ear-wireless-bone-conduction-headphones" id="519″ link_id="651″]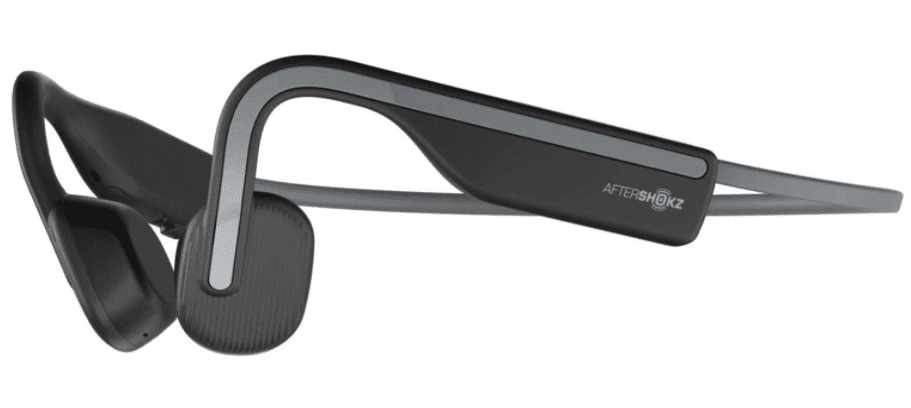 Originally known as the Aftershokz Trekz Titanium model, the OpenMove bone conduction headphone is an upgrade of the Aftershokz best-selling model. Designed for everyday use, OpenMove headphones are comfortable and safe with an open ear design.
The ear hook on these headphones increases its ability to give the user balanced audio, the perfect volume, and rich bass. They are water-resistant with an IP55 certification. These bone conduction headphones have a dual noise-canceling mic, wireless Bluetooth 5.0, and a battery life of 6 hours with a full charge in just 2 hours. For $79.95, you get a two-year warranty and a 45-day money-back guarantee with these headphones. This version proves upgrades are fun!
Pros
Excellent sound quality
Long battery life
Snug fit and comfortable with partial titanium bands
Easy to use commands
A noticeable upgrade from the titanium model
Cons
It doesn't fit everyone correctly
Some reviews say that button press beeps are too loud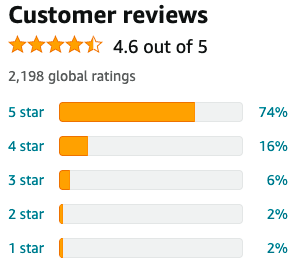 [lasso ref="aftershokz-openmove-wireless-bone-conduction-open-ear-bluetooth-headphones" id="520″ link_id="652″]
Which Bone Conduction Headphones are the Best?
After careful evaluation and plenty of research, any of these bone conduction headphones would be a great pick. If we have to pick a winner, the Aftershokz Aeropex gets that trophy. Between the excellent sound, being comfortable to wear, its durability, and its advanced technology, it checks all of the boxes for the best pair of wireless bone conduction headphones. If your price point is a little lower, that might be the only issue as they are pricey. However, sometimes the price is worth it to get an excellent, quality product. We say go for it to get the listening experience that surpasses all others. Good luck shopping!
[lasso type="gallery" category="best-bone-conduction-headphones" columns="5″ link_id="56205″]