Being a successful soccer player is not just something it can be achieved by just being committed and discipline alone in most cases, many things have to be in your favor from luck, circumstances, and injury also.
Dani Ceballos is always a victim of circumstances. There has been never a question about his qualities and commitment, but the question around him has been, how patience can he be?
After a great 2016/2017 season, the Andalusian born midfielder joined Real Madrid for a fee of 18 million euros In August 2017, he could not break to the Los Blancos starting eleven immediately because he was vying for the same position with some of the game's best players like Tony Kroos, Luka Modric and Isco.
He could not even make match day squad most time in Madrid, but every time he was called upon, Dani Ceballos hardly disappoints. But he could only manage 22 appearances in total, with 2 goals scored and zero assists. Dani endured an average of two seasons with the Spanish giant before securing a season-long loan deal with the gunners.
In a bid to replay long-serving Aaron Ramsey, Ceballos was entrusted with the number 8 jersey. The Spanish international show all the gunner faithful what they have been missing in the team by providing two assists against Burnley in his man of the match display. He is good with the ball on his feet and blessed with excellent vision.
Since he returned from nasty injury, Dani Ceballos is yet to start any game under the new Arsenal coach. Not because the Spanish coach does not believe in his talent, but then he is not in the physical condition to start any game for the gunners.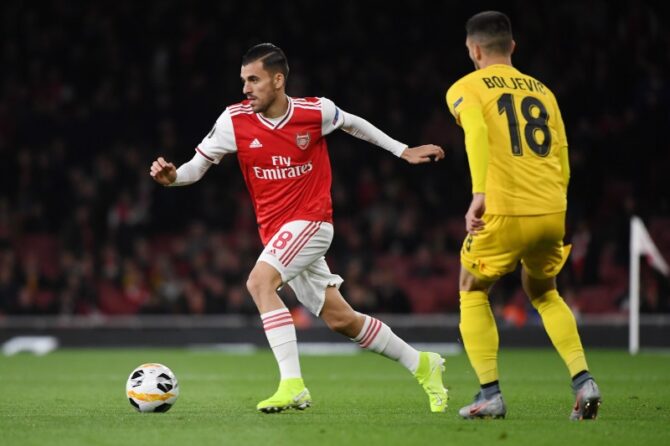 " He came back and in the first few weeks, I think he was not physically at the level to compete for starting games. It is true I have in that position who have been performing really well", said Arteta as quoted by Arsenalfcblog. Now competing with an in form, Granit Xhaka, Torreira and reborn Mesut Ozil.
Going back straight into the starting eleven after almost 2 months out might not be a good idea for the coach, but that does not say the coach is not counting on him. Now, he has some fans to win over once more after David Ornstein, BBC reporter exclusively reveals "Dani is currently unhappy with his situation at Arsenal".
And Ceballos hinted Arsenal's exit via his Instagram page after their 2-2 draw with Chelsea on Tuesday night. "I will miss those  goals with the left foot bro!" Going back to Real Madrid might not be a good option for the Spaniard, with the situation yet change since he last left the Spanish capital-based club.
With the Emergence of Fede Valverde and the current form of Casimero, former Ballon D'or winner, Luka Modric now struggling to even start games, Bench will only be the place for Ceballos at Madrid now if he returns to Madrid in this winter transfer window.
It will be much realistic to stay patiently at Arsenal to start games. Competing with Xhaka, Ozil, Torreira, and Guendozi is not the same thing as competing with Modric, Kroos, Casimero, and Valverde.
With his qualities, he can easily start games under the new Arsenal coach because almost every player at the club has the same chance to start games because the new coach is yet to have his on guaranteed first eleven line up.
It will only be a matter of time if Ceballos can be patient enough, he will surely convince the whole Arsenal's fan base that he has what it takes to be a regular player at Arsenal