When young footballers are asked who is the greatest footballers to ever play the game, many names pop up, one of the most common name and arguably the greatest footballer of all time is Diego Maradona.
The Argentine legend led his country to the FIFA world cup in 1986 and even took them to the finals in 1990 before they lost to Germany. The 59-year-old has since retired from the game and now coach but made a lot of money during his playing career.
He was able to make so much that he had several endorsements deals he signed. Diego Maradona's net worth should have easily been the highest among his pairs that played in the '80s into the early '90s, but due to many tax issues, he just has a decent amount to live on.
It is of great essence to note that  Diego Maradona's net worth is not only made up of wealth gotten from playing football but also other businesses outside the sport. His net worth is currently estimated to just be over $1m.
There are several issues around the net worth of Maradona, majorly as regards the case with the Italian government over unpaid taxes during his playing days at Napoli in the '80s.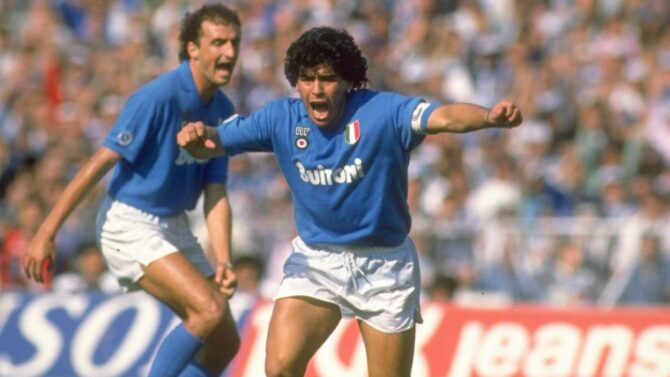 What really makes up the net worth all started during his playing career at Argentinos Juniors and moved later to Boca Juniors. This was where he was first seen to be a dribbler as he dazzles the opponent and left fans mesmerized.
The decision to move to Europe and play for Barcelona didn't come out good for him as he didn't make much impact in Spain. He was only able to make 36 appearances and scored 22 goals in 2 years at Camp Nou.
It was in 1984 after spending two years at Barcelona that he finally moved to Napoli. It was at Naples that El Pibe de Oro (the golden boy) was really known for who he is. Maradona was immense for Napoli during his stay at the club. 
When he arrived at Napoli, there were 75,000 fans waiting to welcome him as he was seen as their savior. Savior he truly was to the club.
Napoli had their best moments when Maradona was donning their jersey as they won their first Serie-A title in 1986/87 seasons, Maradona third season at the club. This was a moment of joy for the Neapolitans as parties erupted everywhere in the city. He was truly their savior.
This was the kind of player fans love to see. He led them to one more league title in 1989/90 season and also was the hero of the 1989 UEFA cup. This was just an era the fans always relish even in this modern day. 
Maradona started having issues with the club towards the end of his time and had to leave after he was banned for 15 months for ingesting cocaine. It was a disgraceful period for him but he eventually moved back to Spain and play for Sevilla. He went on to play for Newell Old Boys and Boca Juniors for the second time.
His career as a footballer started taking a turn from the moment he had that ban at Napoli between 1991 and 1992. That 15 months ban affected his image as a footballer and he still suffers from some of the mistakes he made during that time at Napoli. One of them is the tax case he hasn't settled till now.
Maradona's net worth is greatly affected by the case he is facing because he made extra income during his playing time. He was a brand ambassador to brands like Coca-cola during his playing days but the bad image he gives to himself affects whatever brand he is representing.
Despite not getting endorsement deals towards the end of his playing career, he was able to save and get a coaching license.
This has helped him land a big job like that of the Argentine National in 2010 as he led his country to the 2010 world cup. He has, however, to replicate his top quality as a player now as a coach. He hasn't been convincing at his jobs like he was at Napoli or for the national team while playing.
He currently manages Argentine first division club, Gimnasia de La Plata after joining them in September 2019.
His salary at the club is not disclosed but he will be in charge of the club till the end of the season. It is expected that he will earn more than what he earned at his former job at Dorados, a $1.6m a year deal.
He only lasted 11 months at the club. Diego Maradona's net worth should be on the rise if he has gotten a top job in Europe or decide to go for a first league job even in South America rather than coaching in the second tier of Argentina football. 
One thing that the drug intake did to him was made him lose all his endorsement deals. During his best days, Maradona had the best deals in the game. He was a Puma man.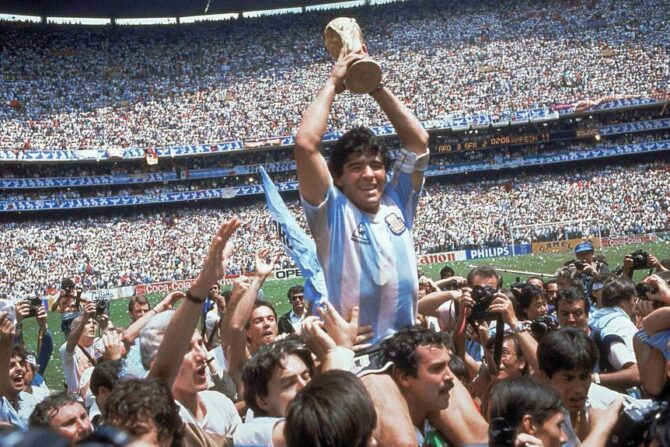 He wore their cleat during the 1986 world cup triumph as he did in the previous and next edition of the tournament. He made good money branding Puma. He also had other deals that fetched him cool cash.
One major one was the Coca-cola deal mentioned earlier. This deal is worth mentioning again because of how big it was then and to this day, many footballers still don't have such a deal. He also branded Hublot and Konami as part of their Pro Evolution Soccer series
One thing that has however not left Maradona is his fan base. He has a huge fan base, even much more than what he had during his time at Napoli if his social media is to be believed.
A man that has over 12 million followers on Facebook and Instagram is no longer a mere former footballer but a big name. Maybe with time, he will be able to turn these large fan base to money by promoting brands on his pages.