Are you looking for a great pair of true wireless earbuds that won't break the bank? Look no further than the Raycon Earbuds!
These earbuds deliver a great sound and a bass at a low-end price, making them great for anyone looking for workout buds and everyday listeners who don't worry about going way too fancy.
These buds come with a nice carrying case that supports wireless charging and three sets of silicone ear tips, so you can find a great fit. And because they're noise-isolating, you'll be able to block out ambient sound and focus on your music or calls. This is simply an affordable and reliable option definitely worth considering!
Raycon as an audio headphones brand
Raycon is a company that creates wireless headphones. They are co-founded by Ray J, an American rapper turned reality TV star, and Ray Lee. The pair joined forces to create a company that would offer more affordable options than the major players in the electronic industry.
Is Raycon a good company? In short, yes. It has been operating since 2017, and they've seen success thanks to a combination of celebrity endorsements and YouTube partners. On top of that, the cost-cutting approach of Raycon has made them popular with customers who are looking for low-cost products. All of these low prices and discounts have helped them succeed among more prominent players in the wireless audio industry.
How good are Raycon headsets?

Like the name suggests, it is an everyday budget-friendly option for anyone looking for a pair of true wireless earbuds. Each earbud has a multifunction button (the R logo) that serves as a playback control.
The new Raycon Everyday buds has an IPX6 waterproof rating, which is still not enough to prevent a deep submersion in water, but the good news is that you won't have to worry about being hit by rain. This qualification also means they are sweat-resistant, so people looking for a discreet pair of earbuds for training might also find them absolutely fine.
Overall, the Everyday buds are a nice improvement over the original pill-shaped earbuds, an excellent value for the price, and provide good performance for general listening. These earbuds fit comfortably and stay in place when you're active, making them an excellent choice for workouts or busy days. They also have a microphone for hands-free use, which is handy for calls/voice commands.
Raycon Everyday Earbuds Overview
These earbuds provide an authentic wireless experience with a lightweight, comfortable fit that's perfect for on-the-go use. With the IPX6 water resistance rating and 32 hours of sound, you can stay connected and entertained all day long. Plus, the powerful bass lets you feel your music. Don't miss out on these must-have true wireless earbuds!
IPX6 waterproof protection, you can stay connected on the go
One-button touch controls with voice activation for managing your music/call
Powerful bass that lets you feel your music
32 hours of sound without recharging, stay connected to everything!
Design: What do Raycon Everyday Earbuds look like?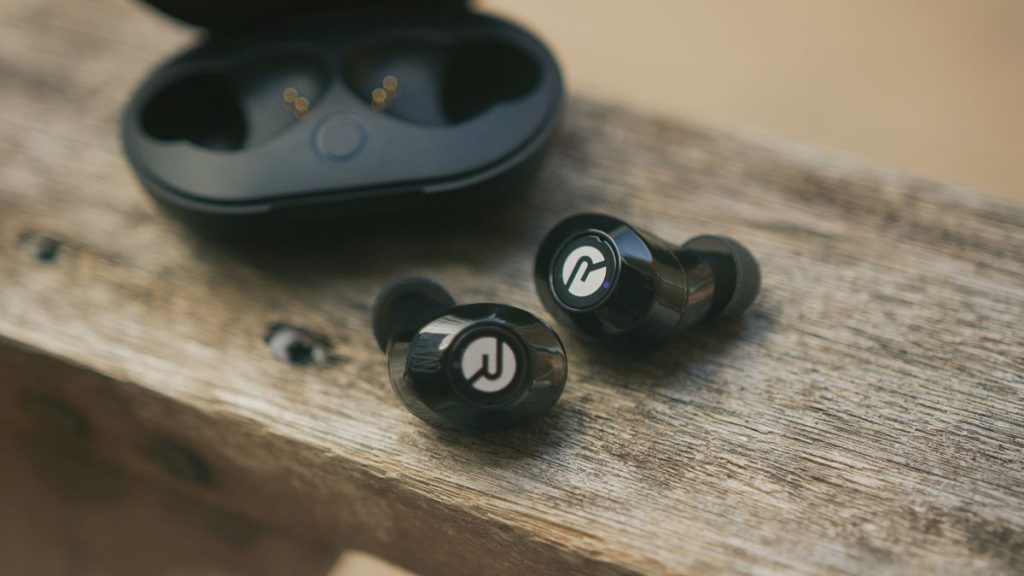 Let's get started on the design side of things. The design of the Raycon E25 buds is really great. I like that they come in a variety of colors and that the shells are made from plastic, which resists fingerprints and is really easy to keep clean.
I also like that you're not stuck with matte black, as you can also buy these earbuds in electric blue, red, rose gold, and white. The packaging is on the flashier side, as is Raycon's aesthetic overall.
The E25 also comes with 6 pairs of silicone tips ranging from XS and XL, along with the instructions, micro-USB charging cable, and the true wireless earbuds themselves. Overall, I really love the design of these earbuds and think they're just a fantastic, affordable, and stylish option.
Battery Life & Connectivity: How long do Raycon Earbuds last?
The E25 earbuds have a battery life of six hours when used at the default dB output.

However, the wireless charging case will give you three extra charges for a total of 32 hours of playtime. And you'll get more if you use only a single earbud.
The Raycon earbuds use Bluetooth 5.0 for a stable connection. You can use them with any device that has Bluetooth, whether that's an iPhone, Android phone, laptop, or even a desktop computer. I had no issues using them with any of my devices. Because of the battery life, I'd recommend looking into other headphones if you're planning on using them for really long periods of time.
The earbuds come with the default SBC codec and AAC, which is good for iOS devices but not so good for Android devices. On Android, AAC varies depending on the device you have. However, because it also uses Bluetooth 5.2, the Everyday Earbuds may one day support the new LC3 codec, which is nice.
[lasso ref="the-everyday-raycon-bluetooth-wireless-earbuds-with-microphone-stereo-sound-in-ear-bluetooth-headset-true-wireless-earbuds-32-hours-playtime-matte-black" id="4796″ link_id="53239″]
Sound Quality: How does the Raycon Everyday Earbuds sound?
In terms of audio output, the Raycon Everyday Earbuds could be better. The EQ settings with the most accurate frequency response, bass sound, and high range sound are emphasized even on Pure Sound. There's a lot of bass, and it's controlled and punchy. The mids are heavily damped by all that bass, resulting in a fairly clean sound overall.
The Raycon Everyday Earbuds offer a well-rounded and balanced sound with good bass. The mids and highs are also clear and distinct. These earbuds are perfect for everyday use, whether you're listening to music, watching TV, or making calls.
Overall, the bass is good if you like that sorta thing. The treble reaches high enough to be clear and distinguishable but sounds shallow. There is an average soundstage surrounding instruments, though it sounds like they're coming from one end of a room instead of all-around your head. Nothing really terrible about them if you like heavily-emphasized bass.
One downside of the Raycon Everyday Earbuds is that there's no Raycon app for you to equalize the earbuds. This means that you're stuck with the sound quality unless you want to explore third-party EQ applications. While some people may not mind this, others may find it a bit of a hassle.
How effectively do the Raycon Everyday Earbuds block out noise?
I was really impressed with how well these earbuds blocked out the background noise. The Raycon Everyday Earbuds do a good job on this. Even though they don't have active noise cancellation, the ear tips help create a good seal and block out most external noise. This makes them a good option for those who need headphones in noisy environments.
If you have trouble hearing conversations over the sound of a vacuum cleaner or heavy machinery, these earbuds will do a great job at keeping all that noise out. I also found that they did a pretty good job of blocking out the chatter and other low-level office noise, especially while listening to some relaxing music.
How is the mic?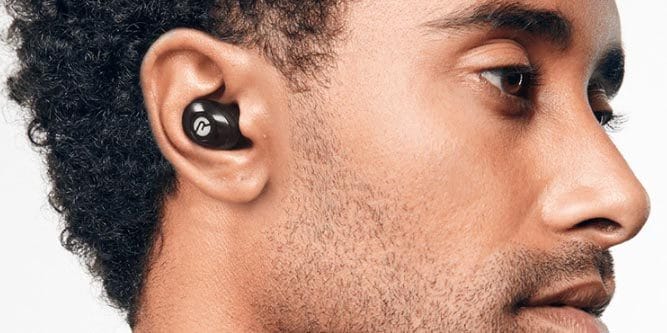 The sound quality of the microphone on the Raycon Everyday Earbuds is a bit muffled, but it is still okay for making phone calls and not so great for recording podcasts or other types of professional audio recordings. If you are looking for a budget-friendly option with a decent microphone for calls and/or workouts, the Raycon Everyday Earbuds are a good choice.
I have worn them while walking around Bali for hours with no issues! Generally, though, these earbuds sit comfortably in my ears without causing any irritation. I would definitely recommend them if you work out or look for earbuds to wear during active use.
Who should get the Raycon Everyday Earbuds?
People looking for high-performance earbuds like audiophiles might prefer other products on the market, that's for sure. The Raycon Everyday Earbuds are a simple and great budget-friendly option for everyday listeners who just want something pretty basic and those looking for exercise buds.
Should you buy the Raycon Everyday Earbuds?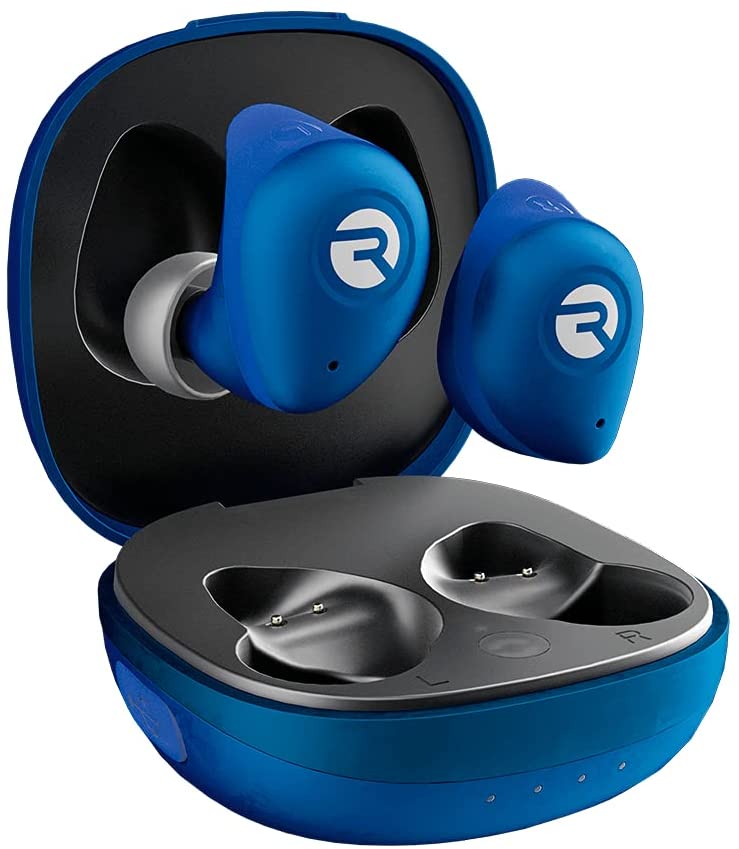 The Raycon Everyday Earbuds are one of the company's best budget-friendly true wireless earbuds. The earbuds are comfortable, isolate well, and the build quality feels pretty good.
They also have added features like EQ presets, transparency mode, and compatibility with your favorite voice assistant: Alexa or Siri. However, the earbuds aren't necessarily a good fit for audiophiles. So, should you get them?
Well, it really depends on what you're looking for in a pair of earbuds. If sound quality is your top priority, you should probably look elsewhere. But, if comfort, decent quality, and price are more important to you, then the Raycon Everyday Earbuds might be a good option.
Nice design and a variety of colors, so you can choose the ones that best match your style. Additionally, the earbuds are lightweight and comfortable to wear, making them ideal for everyday use. Overall, these earbuds are a good value and would be a great choice if someone wants a basic set of earbuds.
How to pair Raycon Earbuds?
To pair your Raycon earbuds, you will need to have the earbuds close to each other. Make sure that both earbuds are turned on by holding down the power button for about two seconds on each earbud at the same time. Once both earbuds are on, you will see a blue light flashing. Now, go to the Bluetooth settings on your phone, connect the buds, and you're good to go.
If you're more visual, check out this instructional video from Raycon Global.
How to charge Raycon Earbuds?
You can use the included USB charging cable to charge the capsule. The headphones can also be charged using the Micro USB port. To do this, connect the headphones to a working power source and then into the corresponding port on the buds. It will take roughly 2 to 3 hours to fully charge your headphones.
Also Read : The 7 Best Invisible Earbuds In 2023
How to adjust the volume on Raycon Earbuds?
There are two ways to adjust the volume on your Raycon E25 earbuds: through your phone's Bluetooth settings or directly through your earbuds. To do so via Bluetooth, simply go to Settings > Bluetooth and open up your connection to find the "R" icon for Raycon. You will see a volume control next to "R" for Raycon.
The other way to adjust the volume is by clicking the right earbud with a triple tap. This will increase the volume. You need to quickly click the left earbud with another triple tap to decrease the volume.
Differences between sizes and variants
Earbuds come in different sizes, and there are also other variants of earbuds. The differences between the dimensions are that the smaller earbuds may not fit everyone's ears, and the larger earbuds may be too bulky for some people. The differences between the variants are that some earbuds have a microphone, while others do not. Some earbuds come in wireless form, while some do not. Some earbuds are advertised with noise cancellation features, while others may not.
Are Raycon earbuds actually good?
Raycon buds are actually good. I personally love that they have a lot of features that are great for everyday use, such as a decent quality battery life and water-resistance qualities. They are also very portable, which makes them easy to take with you wherever you go. In addition, you don't need an app or any kind of extra subscription to use it. You can use it on almost any device.
[lasso type="grid" category="everyday-raycon-earbuds" compact="true" columns="1″ link_id="53240″]
Final Verdict
Overall, the Raycon Earbuds are a decent budget-friendly option for everyday use. They are closed-back in-ear headphones with a passive soundstage that look closed off. The sounds appear from inside the body rather than from speakers located around the body. They have an over-emphasis on bass and treble ranges, which can make them a little bit muddy and disturbing. Raycon Fitness Earbuds are ideal for transportation or commuter use.
It is a solid 7 out of 10. Decent sound quality and good noise cancellation. There is one preset of EQ for you. I highly recommend these earbuds to anyone looking for an affordable pair of earbuds that don't compromise on quality.