Martin Scorsese's 1995 film "Casino" is a classic of the gangster genre, telling the story of Sam "Ace" Rothstein, a mob-connected casino executive in Las Vegas. The movie follows Ace as he navigates the world of organized crime and high-stakes gambling, while also exploring themes such as loyalty and betrayal. The film was a critical and commercial success, earning five Academy Award nominations and Casino US box office earnings grossed $43 million and internationally it reached $73 million , making a total of $116 million worldwide, against a $40–50 million production budget. This made Casino the second highest-grossing movie of 1995 behind Toy Story. It was also the second highest-grossing movie of Martin Scorsese's career at the time, behind only Goodfellas.Its exploration of the dark side of Las Vegas has been cited as an inspiration for many other films and television shows set in casinos or featuring gambling as a major plot point. "Casino" is an enduring testament to Martin Scorsese's skill as a filmmaker and its impact on culture will continue to be felt for years to come.
Analyzing the film's main themes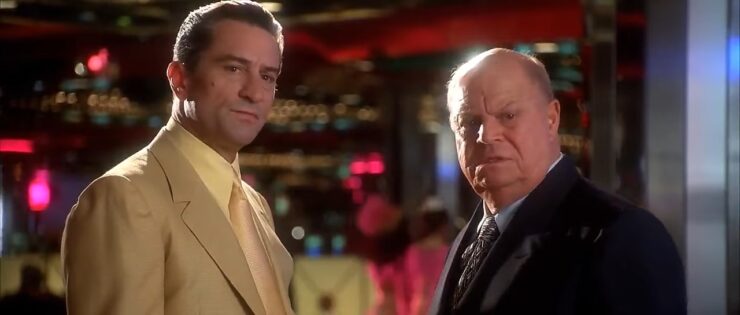 The 1995 film Casino, directed by Martin Scorsese, is a complex exploration of themes such as greed, hubris, and the primal lure of violence. Through brilliant use of narrative exposition, Sam tells us about how his world works, and how Las Vegas and their casino work. The movie follows three characters whose outsized ambitions get the better of them: Sam "Ace" Rothstein (Robert De Niro), Ginger McKenna (Sharon Stone), and Nicky Santoro (Joe Pesci). Self-destruction is one of Scorsese's great themes in this movie, as each character's ambition leads to their downfall. The film also explores the idea of chance versus free will through its use of color symbolism. Red appears throughout the movie to symbolize danger and power. Overall, Casino offers an insightful analysis of human nature and our relationship with money and power.
Examining the performances of Robert De Niro, Joe Pesci and Sharon Stone
The 1995 film Casino is famous for its outstanding performances by Robert De Niro, Joe Pesci and Sharon Stone. De Niro played Sam "Ace" Rothstein, a Jewish American gambling expert hired to manage the Tangiers Casino in Las Vegas. He exudes confidence and charisma while also displaying vulnerability and naivety at times throughout the movie. His performance received universal acclaim from critics, making it one of the most lauded roles of his career.
Joe Pesci plays Nicky Santoro, Ace's friend and a right-hand man whose reckless behavior often puts Ace in difficult situations. Pesci delivers an excellent performance that perfectly portrays Nicky's passion and volatility.
Sharon Stone plays Ginger McKenna, Ace's wife who has a turbulent relationship with both him and her former boyfriend Lester Diamond (played brilliantly by James Woods). Her compelling portrayal of a woman striving for love and independence adds depth to the character.
Together, these three actors deliver masterful performances that help to create an engaging story about loyalty, power, and greed that remains timeless even today.
Exploring how the film has aged over time
Over the past 25 years, the 1995 film Casino has aged like a fine wine. From its iconic performances by Robert De Niro, Joe Pesci, and Sharon Stone to Martin Scorsese's direction and use of music, every element of this classic crime drama remains timeless and captivating. The themes of loyalty, power, and greed resonate with audiences today just as much as it did when it was first released. Despite being released over two decades ago, viewers are still drawn in by Scorsese's masterful ability to evoke tension in every scene and his excellent use of Bach's St Matthew Passion. There is no denying that Casino has emerged as one of the most enduring films of its era and will continue to captivate audiences for many years to come.
Comparing Casino to modern films in the same genre
The 1995 classic Casino tells the story of Sam "Ace" Rothstein, a professional gambler and mob associate who is tasked with running a Las Vegas casino. The movie follows Ace as he navigates the criminal underworld and struggles to keep his own moral code intact. It's an intense drama that features some of the best performances in Scorsese's career.
Modern casino films take a different approach than Casino did. They often focus on the glamor and excitement of gambling, rather than its darker side. Movies like 21 (2008), Ocean's Eleven (2001) and Focus (2015) all feature protagonists who use their gambling skills to pull off elaborate heists or outwit their opponents. These movies emphasize the thrill of playing high-stakes games and show how clever strategies can lead to big payouts.
In addition to emphasizing the fun aspects of gambling, modern casino films also explore more serious themes such as addiction and corruption. Movies like The Gambler (2014) and Croupier (1998) examine how people can become addicted to gambling and how casinos can be used for illegal activities such as money laundering or fraud.
Overall, modern casino films are still entertaining but they tend to focus more on the lighter side of gambling than Casino did. While Casino was an intense drama about crime and morality, modern movies are more likely to feature characters who use their wits to win big at casinos without getting into too much trouble along the way.
Discussing the Legacy of Martin Scorsese's "Casino" 25 years later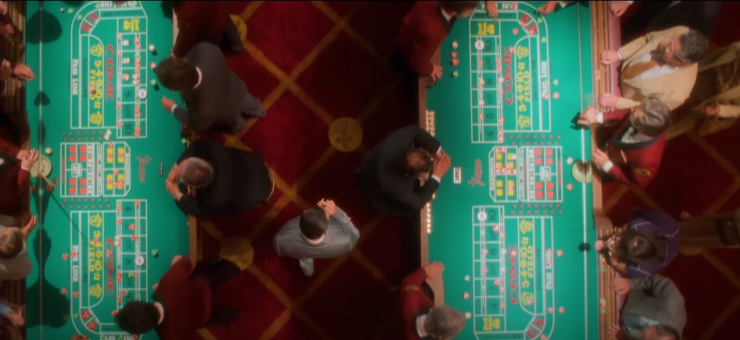 25 years after Casino was released, it is still remembered as one of Martin Scorsese's greatest films. Featuring a star-studded cast and gripping story of greed, deception, money, power and murder between two best friends, Casino was an instant classic not just in the United States but around the world.
Casino has become a movie that continues to be enjoyed by audiences around the world even today. The success at the box office in 1995 solidified it as one of Martin Scorsese's most successful films to date and helped to cement his place among Hollywood's greatest directors.
25 years later, Casino is still celebrated for its accurate depiction laid in a nonlinear narrative style that has since become synonymous with many great works by Martin Scorsese such as Gangs of New York (2002), The Departed (2006) and The Wolf Of Wall Street (2013).