Following Arsenal's miserable 1-0 defeat at the hands of Burnley at the Emirates Stadium last weekend, Mikel Arteta's reign as head coach of the Gunners could soon be coming to a premature end. After a series of bad results, it wouldn't be a surprise to see Arsenal let him go. However, it could be said that these problems are not caused only by the team's head coach and that problems are much deeper than it meets the eye.
The defeat left Arsenal in 15th position in the Premier League table, just three places and five points above the relegation zone. With a lot of different famous ex-players and managers that it's not impossible to see Arsenal relegated. It comes on the back of being beaten last weekend by Tottenham Hotspur 2-0 in the north London derby, and the news hot off the press that Arsenal will now face Benfica in their next Europa League fixture. 
But it can be said that this game is not as important as games in the EPL. Therefore, chances are that this game will not be crucial for the decision about his status in the club. But we wouldn't be surprised if that happens. The clubs recent defeat against Manchester City in EFL Cup, 1:4, only sparked a lot of unhappiness within the fans, and they are demanding the manager's head. As you can presume, players remained silent about the problems at the club. But it wouldn't surprise if someone would say something at the end of the season or in the future. 
The somewhat controversial Granit Xhaka, the 28-year-old Swiss-born midfielder, was again in disgrace. He was sent off in the match against Burnley for seemingly grabbing Burnley's Ashley Westwood by the throat. When you take a look at statistics, you will see that this wasn't the only case he left his team at the pitch. In fact, this was the third red card that he has picked up in a little over a year and comes on the back of the incident whereby he was stripped of the team captaincy because he swore at fans when being substituted against Crystal Palace last October.
As a result, Xhaka became the focus of the fans' displeasure. Furthermore, it can be said that fans are not satisfied with him being the captain of the team. At one stage he was going to leave the club, and it was Arteta who told him to roll up his sleeves and work his way back into favour with the supporters. It is something that the Spaniard may now well rue having done.
Arsenal legend, Thierry Henry, once refused to watch the Gunners play, switching his TV off after seeing it was Xhaka who led the team out of the tunnel, according to Patrice Evra. Plus, we can see that there are a lot of managers that commented on his bad influence on the locker-room atmosphere. The club's living legend and an ex-manager of London club, Arsene Wenger didn't have any comments on the situation in Arsenal, a club where he had the best results. Without any doubt, he is one of the best managers in the EPL ever.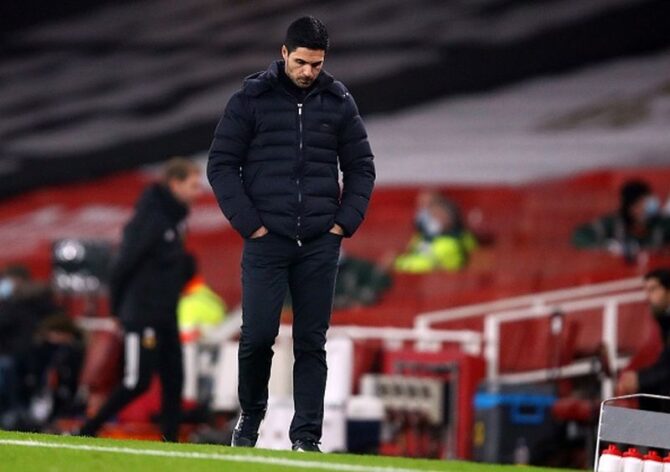 If Xhaka's sending off was the catalyst for the defeat by Burnley, it was Gunners' present skipper, Pierre-Emerick Aubameyang, who sealed the deal with an own goal in the 73rd minute of the game. It is ironic that Aubameyang, who was scoring freely last season, cannot find the back of Arsenal's opponents' nets, but can find his own. There is nothing like being kicked when you are already down, as they say. But fans are not considering Aubameyang to be guilty of the bad streak. In fact, this player had pretty good numbers last season. However, we can see that this season is really bad.
To see how bad this season is for Arsenal, we will provide you with some statistics. It is certainly not looking good for Mikel Arteta, with his side making the worst start in the league since the 1974-5 season. It could well be a case of 'come back Arsene Wenger – all is forgiven'. Fans are nostalgic about the times when Arsenal was frequently in the top 4 and their participation in European competitions wasn't nearly as bad as it is now. Just remember, Arsenal played the 2003/04 European Champions Cup against Barcelona during Wenger's reign at the club.
Wenger is still rated the 5th best English club manager of all time, and at 71 years of age, he would not be the oldest manager in the Premiership. That honour goes to Roy Hodgson, who is now 73. However, harking back to Wenger's last years as manager of Arsenal, it is pretty unlikely he would want that poisoned chalice back again. If you are interested to see what are the best managers in this league ever, be sure to take a look at sportingbet.com. Here, you will be able to see all the trophies these head coaches achieve during their management in this league.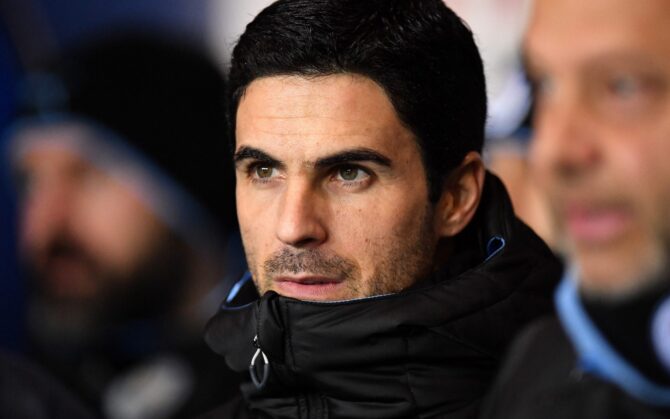 Unsurprisingly, Arsenal fans are now calling for Arteta's head. With seven losses from Arsenal's opening 12 games, this does not come as a shock. Before the defeat by Burnley, the Spaniard was 8:1 favourite for a sacking. The odds are bound to have shortened further. So, we can see that this bad streak is not going to end soon. Their schedule is not easy. Plus, whatever they do, they will not reach the position that will let them play in any European championship.
Since the heat on Arteta's position is increasing, we can see that there are some names that popped up in the discussion about who should be Arsenal's next manager. It could well be that a change is in the wind, and who knows – it could even be Mauricio Pottechino's name that comes out of the hat. 
Although he was manager of the old enemy – Tottenham Hotspur – he is held in high esteem, and after many months out of the game, he could well be coming back to North London. It wouldn't be the first time for a manager to become a head coach of an ex-rival. Just take a look at Jose Mourinho and him becoming a manager of Tottenham, a fierce rival of his previous club, Chelsea. Stranger things have happened and surely, we can expect them to repeat once again in the future, without any doubt.