One of the best player this generation has seen is Neymar Jr. The Brazil and Paris Saint Germain attacker is a very unique player whose talent has been compared several times to that of Barcelona star, Lionel Messi.
Neymar career started early and has made name for himself long before coming to Europe. He was revered in his home club, Santos after he led them to Copa Libertadores, their first since Pele last played for the club.
The 27-year-old has made a name for himself that made it easy for clubs to start seeking his signature. This is why Neymar net worth is high up there with footballers that have been playing for a decade despite him being younger and having a shorter career.
He has started gracing the cover of top magazines since his teenage years. His marketability has been the best since Ronaldo Delima far back in the late '90s for any Brazilian footballer. Neymar net worth is estimated to be over $185 million.
This rank amongst the top sportsmen still active in the game. Looking into his career right from his days at Santos, it could have been predicted that Neymar net worth was going to be huge in future.
During his time at Santos, Neymar prolific goal scoring ability and his dribbling skills was seen at first hand. This was when he played a very major role in helping Santos win Copa Libertadores for the first time since 1963 when Pele led the side.
This was a major landmark in his career as it brought more attention to him despite already being targeted by major clubs in Europe. What followed this was that Santos was going to increase his wage to help keep him to a long term contract and ensure that whenever a deal was to come, it will be for big money.
So Neymar was already earning elite players' wages right from his playing days at Santos. This contributed to his net worth.
It was within this period at Santos that Nike signed him as one of their major athlete to promote the brand and he joined the likes of Cristiano Ronaldo on the list of Nike athlete.
The 2011 Copa Libertadores win came with major awards and recognition for the Brazilian. This was when he was awarded the 'World Soccer Young Player of the Year' and the FIFA Puskas award for the best goal of the year in 2011.
When it was time to finally make the move to Europe, Barcelona was the club he joined after rejecting offers from Chelsea and Real Madrid. The move to Barcelona obviously came with much controversies but the amount involved was huge for him to say no to the Catalan side.
Also, the fact that he will play alongside Messi was an icing on the cake for him. On June 3rd 2013, Neymar was unveiled at Camp Nou in front of a 56,500 fans. He was a brand on his own that could be a cash cow for Barcelona and they tapped into it fully.
From merchandise to adverts and many more, Neymar was more than just football and everyone at Barcelona knew this. That was why he was offered a 5 year contract. This was a deal made in heaven as his signing brought more success on the pitch and off the pitch for Barcelona.
It was during this period Barca secured their Qatar shirt deal and money was flowing everywhere at the club. His transfer to Barcelona created many tax issues in Spain that cost the club president to lose his seat and the club sanctioned as it was gathered that his parents received €40m in the process.
Neymar net worth never dropped since then and he continue to get deals from different top brands across the world. He has a deal with Nike that runs for 11 years which he signed right from his time in Brazil when he was 17.
Deals with Panasonic that was over $2 million and Volkswagen and many more. Forbes have rated him as the third highest earning footballer behind Messi and Ronaldo with earnings as high as $105 million in a calendar year. His earnings are expected to go up same as his net worth.
The move to PSG in 2017 came as a shock but one with many financial benefit for the superstar. In a deal that will remain as the highest amount exchanged for a player in history, PSG met his release clause, a sum of $222 million and were successful in transferring Neymar to Paris. This was a big surprise for Barcelona as the club could not do anything to prevent it.
From financial point of view, Neymar has benefitted from the deal but have had little success to show for it on the field of play in Europe. Ravaged by several injuries, PSG has not made much from his move to the club but are also not willing to let him go back to Barcelona when a deal was presented last summer.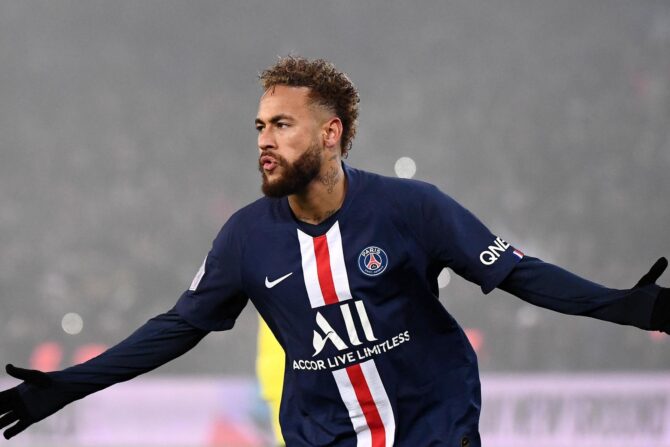 Neymar net worth will continue to increase regardless of where he plays as he has one of the best agent managing him in Mino Riola. Other issues that have affected his game was his attitude that has been a case since his Santos days.
Neymar has issues at every club he play either with his coach or fans or opponents. One major issue was his diving pranks that many frown at. He has done it several times to deceive many and has gotten away with it.
His plan to force a move back to Barcelona was also another problem he had in France which made the fans turn on him. After his return back to first team action, he was booed but with goals for the team, he has been received back at the club.
Neymar influence in football right now will continue to grow as he is a brand himself and many people want to associate with top brand to help push theirs also.