It's been more than half a decade since the whole hoverboard industry started, and yet, it's still going relatively strong.
While these futuristic devices no longer carry the same popularity as they once did when they first came out on the market, hoverboards have been able to maintain a strong market demand since.
In fact, manufacturers have not stopped innovating, with big brands like Samsung stepping in to fill in the market's need for high-quality hoverboards that do not fail, or in worse cases, explode.
One of the biggest issues that hoverboards faced earlier on was how they reportedly exploded. This was mostly because of battery issues.
One company's attempt to solve this was to tap the resource of Korea-based tech conglomerate, Samsung.
Powered by Samsung battery cells and made to fully comply with all of the safety regulations set by the United Kingdom, the Vanguard by Hoverboard has established itself as one of the best hoverboards on the market.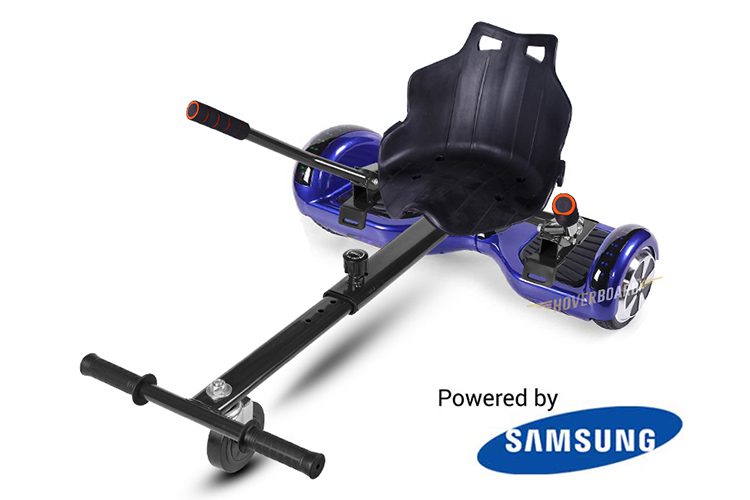 What Makes the Samsung Hoverboard Safer?
One of the biggest factors that you should consider when choosing a hoverboard is safety.
As much as government bodies from around the world have tried to clamp down on substandard hoverboards, they still find a way to make it out on the market. As a result, you'll find plenty of low-quality hoverboards.
The worst part is that some of them are masquerading as high-quality products.
If you don't scrutinize and do your research, you could very well end up putting yourself and your family at risk, which can include your children, to whom hoverboards are especially appealing to.
Luckily, what makes the Samsung Hoverboard stand out is that it is fully compliant with notable laws and regulations.
For example, the Vanguard comes with a CE-certified charger. This means that it was made to conform with the regulatory rules set by the European Economic Area. In addition to this, the Vanguard uses authentic Samsung Li-Ion Battery Cells with a maximum capacity of 4,400mAh and has been rated to be charged for over 2,000 times.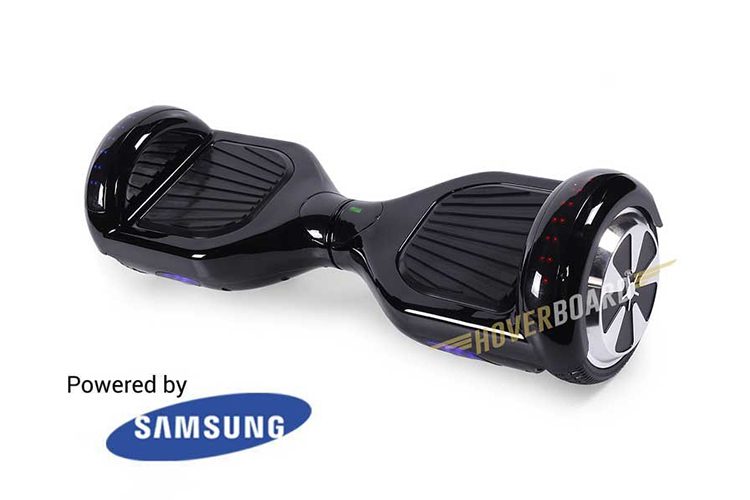 Is the Samsung Hoverboard Good?
As far as hoverboards go, it's hard to say no to the Vanguard.
The Samsung Hoverboard has all that everyone would ever reasonably need of a hoverboard. This includes, among others, a basic kart frame.
Why this is important is because not everyone can learn how to ride the board without any proper support immediately.
This also means that, after attaching the kart, the handles will let you forward and reverse, as well as steer movement, all of which will help you learn how to ride the hoverboard comfortably as if you're a pro in just a couple of minutes.
Users can also adjust the length of the kart, making it suitable for adults and kids alike. However, keep in mind that the Vanguard was made to cater only to riders up to 100kg in weight.
The most notable feature of the Vanguard though is its auto-balance.
This feature helps stabilize the board so you don't have to work as hard to keep steady. This makes the board easy to learn how to ride without any assistance.
Paired with the kart, you'll have no trouble using the Vanguard at all.
How Long Can do Samsung Hoverboard Last?
Powered by a 4,400mAh authentic Samsung battery, the Vanguard should be good for around two hours of use before the battery starts to run out.
For context, at its maximum speed of 12km/h, you should be able to travel a maximum of 24 kilometers in ideal condition. Although, because you'll have to account for terrain changes and ambient temperature, you might just be able to expect 15km of travel with the Vanguard, which isn't half-bad.
Once the Vanguard has run out of juice, the battery is protected from overcharging, overcurrent, and short circuit. However, it is still recommended to remove the plug and not leave the board charging unattended for north of three hours.
The Problem/s With the Samsung Hoverboard
With only a 350W motor powering each of its 6.5-inch wheels, the Vanguard is far from fast. In fact, the 12km/h, as mentioned earlier, makes it relatively slow. This is especially true compared to other competition.
The Vanguard also looks like it was deliberately built to be used outdoors sparingly.
Design-wise, the Vanguard lacks any form of guard or protection against scratches and scrapes. This can be a huge problem if you plan on using the hoverboard regularly, especially if it's allowed in your country.
Expect to see some pretty glaring scratches and scrapes, especially on the glossy finish.
Final Thoughts
It's clear that Hoverboard didn't make the Vanguard for offroad use. It can be used outdoors though, but without any sort of waterproofing and weather-resistance, the Vanguard might not last that long when subject to the elements.
With that said, you can't exactly expect too much from the Samsung Hoverboard.
At its price, it's one of the least-expensive hoverboards on the market that's actually able to live up to the promises that it set. More importantly, it's one of the few hoverboards that has all of the important safety certifications, and then some.
Like, for example, the Vanguard is backed with a 1-year guarantee, as well as quad-shield protection that prevents overheating of the battery.
Not to mention, the included kart frame and auto-balance feature mean that it'll be fun to use the Vanguard right out of the box.
All in all, we do recommend the Vanguard for the average user who wants to try out a safe and effective hoverboard.
It's also fairly stylish and comes with a variety of colors. It even has a built-in Bluetooth speaker and ships with its own carry bag, in addition to the kart, for more fun to be had.