The life of footballers that come from the far Eastern part of the world to play in Europe elite leagues has really not been in the eye of everyone. The players that come from Asia find their way to top clubs in Europe and make names for themselves.
The sacrifice and dedication that they put into achieving this are often understated because many don't even know what they go through. For a player like Son Heung-Min who has made it to a top club in London and has consistently been a super player for the club but gets little credit for all he does is an example of the life of an Asian player in top-flight leagues.
Something, however, struck out about the life of Son Heung-Min. His relationship life has not been able to be unknown to the public, despite his wish to keep a low profile life. Going out with a popular actress was always going to be known at one point or the other. Son Heung-Min's girlfriend is known to be a popular actress Yoo So-young. She used to be a former member of the pop group, After School which was once popular in South Korea.
The lady is a very beautiful lady that many has seen as a choice that can distract Son in his footballing career. Son has however been focused on his football as advised by his parents and has consistently improved his game while also keeping his relationship.
Despite reports of their relationship, only a few pictures of the two are in the public. They started dating in 2015, the year Son moved from Bundesliga side, Bayern Leverkusen to Tottenham. One astonishing thing about Son Heung-Min's girlfriend is that despite the six years age gap between the two-Yoo being the older person, it has not affected their relationship in any way.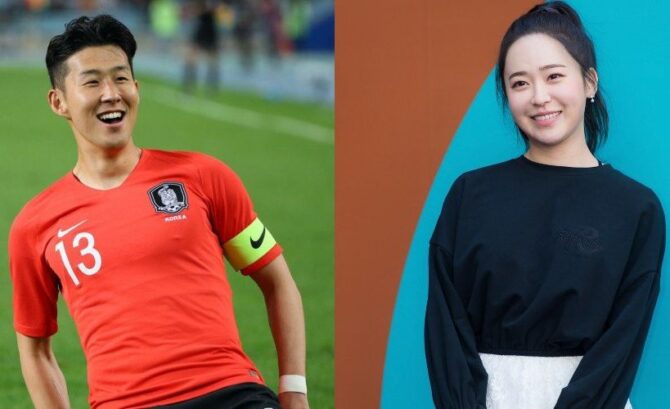 Yoo popularity amongst sports stars dated back to when she dated baseball player, Shim Soo Chang. Her reason for leaving Shim is not known but everyone will prefer to gout with a footballer that plays in London than a baseballer (no pun intended). The relationship has continued as Son's career continues to be on the rise and many were not aware of the relationship immediately as they hardly take photos together for social media ops.
When it comes to Son's football career and how he has developed over time, it has to be said that the period he has been with Yoo is the best in his career. From moving from Hamburger SV to Bayer Leverkusen has before the move to Premier League, his stat has been on the rise. From doing 20 goals at Hamburger to 21 goals at Leverkusen then doing 45 goals and still counting for Spurs, Son's career is on the rise every day.
He has been a key player for Spurs since joining and has been regarded in many quarters as the most unrated player in Premier League in recent times. He was a major factor in Spurs run to the final of the Champions League last season, scoring in the semi-finals against Manchester City. He has contributed massively to Spurs since joining and has been a big game player for the club.
He is a big favorite of many Fantasy Premier League Managers as he is sure to get you to match points even when he is not scoring by assisting his teammates. He is a major backbone to the goals scored by Harry Kane and both have formed a formidable partnership in front of the Tottenham attack.
One major issue Son was going to face was the mandatory military service in his country, South Korea but he participated in the 2018 Asian cup which has helped him get exemption from the service as he has to have either been in the military for two years or represent the country in the Asian tournament which he did and missed a couple of games for Spurs because of this.
The life of a footballer that is also going out with someone in the media space is something Son has to cope with. Yoo's acting career has to continue while he also plays his football. When she left her former group, After School, she had to start her acting career professionally.
This was when she started getting the gig and has appeared in eight TV shows amongst them is Beastie Girls, High Society, You're Only Mine and The Women of Our Home. Son Heung-Min's girlfriend has also had her fair share of public life that has almost affected her career. She claimed she has been harassed by the CEO of an agency she was signed to in the past which led to her canceling her contract there.
She made this known in an interview with a chat show in Korea. She eventually left the agency and she is currently signed to an entertainment agency called Star Story. Son must have been teased by his teammates as he has one of the most gorgeous women as his girlfriend.
Recently, Son was involved in an incident that could change the career of a fellow footballer. During the Premier League match between Everton and Tottenham at Goodison Park, Son launched a tackle on Everton midfielder, Andre Gomes which left the player with a career-threatening injury.
Son was given the marching order by the referee, a decision that has been overruled after the game but it has not changed the fact that Gomes will be out for at least 6 months to a year without playing football if he is ever going to be able to play football. Son was in tears after he saw the gravity of what he has done and has apologized to Gomes afterward and wished him a speedy recovery.
Son has the support of his girlfriend to get himself back and not down due to his mistake. He returned to playing for Spurs in the Champions League and banged two goals after that incident. That is the effect of having a partner that would have played a role in your life. Son and Yoo are so lucky to have each other in their lives.