Okay so here we are at the end of my mini-series looking at ways to vary our systems and approach with the same players. I thought I better get the last one written as we are actually in danger of making our first signing and that might render this last installment redundant. Of course, they probably are all redundant but I have had fun using my imagination, whilst wishing none too secretly that Arsene might to the same!
I have covered 4 different possibilities without looking at the currently favored 4231/4141. Two with back fours and 2 with back threes and the last variation tips us in favor of a four-man defence. I always knew I would save this article until last as it is a simple concept and I assumed it would be a populist way to conclude what has proved a popular diversion from transfers and speculation – or so the reading figures suggest.
For my last potential team formation, I thought I would return to a certain 2003/4 season where our beloved team did quite well. Indeed I believe this was Wenger's set up for the most part in the early noughties. So let's call it the? Invincibles' Line Up for the want of a better tag line. Most think automatically 442 but I always consider it a tad more subtle when I look back and I think of it as 41311.
So in this finale, all I intend to do is try to match the closest player in the present squad to the players most feel are the first choice 11 from 2003/4. These players only started a handful of games together as it happens and only 2 in the Premier League but few would argue with this being the team if all fit: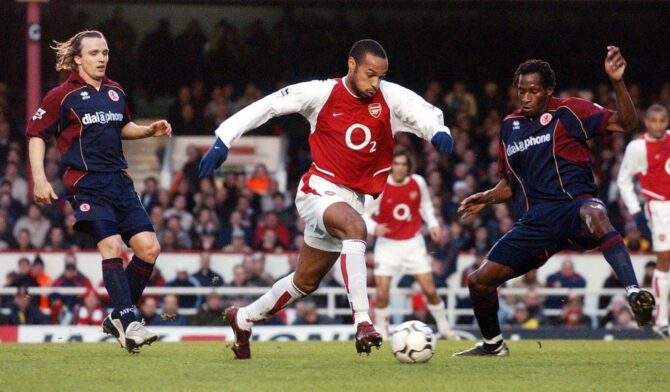 So today is not about my actual view on who should play in 2015/16 per say and nor am I suggesting for one minute that any player is on a par or better than our players back then. I think we all know that in the main they are not, with a few possible exceptions. I am happy to push on this but it is not for this article. All I am thinking is which player most closely matches the attributes and style of the players from 03/04 in the formation as I see it. I hope this will make sense and that it will engender a healthy and lively debate.
Funnily enough the 2 positions I found hardest were the 2 fullback berths but I think given the attacking nature and the fast-breaking style of the team back then and hence now if we opted to use the system, you would opt for the stronger defenders in case they were left exposed.
The 2 wider advanced midfielders were easy for me and for Freddie and Bobby I opted for Ox and Alexis. I think Alex has all the energy that Ljungberg had and gets to the bye-line to cut back as well as the Swede if not better. Perhaps the goal-scoring side will develop for the Ox and think it will. One could easily argue for Alexis to be upfront but just remember how superb Pires was on the left and how many goals he scored from there.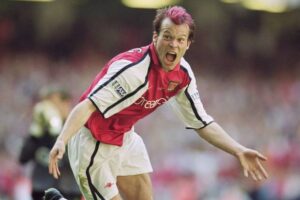 No surprise that for Bergkamp's No.10 role. vision and defence-splitting passing I selected the newly beefed-up Mesut Ozil. For all the finesse Dennis was rarely outmuscled and Mesut is getting there. For Henry, I just edged for Theo over Danny. Although the Champions League Hatrick versus Gala by Welbeck last season was very Henryesque. Both have many of the attributes. neither will ever be Thierry!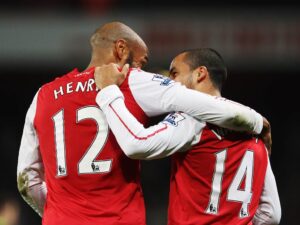 The Paddy role is a difficult one as no one actually has his stature or strength. Last month I could have dropped Diaby in there but now it is one of Ramsey, Wilshere or Cazorla and I think the Welshman is the closest to Vieira for that role. He has the strength and the ability to surge into the box. No need to ask you to guess who is Gilberto really!!
The central defensive partnership requires mobility aligned with more traditional height and strength and from this, we have the present first-choice partnership fits. Behind then and in advance our impending arrival if I am looking to match the attributes of Mad Jens I suppose Mad Woj will do.
So here we have it the Invincibles 2015/16 in attributes, positions and team set up, if not inability or talent in many cases or yet at least.