The same folk who advocate a large squad and squad rotation are telling me that certain players cannot be dropped. Well, guys, it is one or the other and you cannot have it both ways. If the large squad of top-class players is what is needed to win honors then so be it and if a leading player is a jaded or off form he can be taken out of the firing line.
Why is it that just because of his price tag so many fans seem set against the ideas of Mesut Ozil being left out for a few games? Why is it okay to leave Santi on the bench who despite not hitting the heights of his first campaign, has contributed so much more than the German to our cause?
It should not be about the price tag, it should not be about reputation and it should not be about a player's sensibilities or otherwise.
It should be about attitude in training, a player's form, the team chemistry, and the team balance.
Arsenal will play 60 or so games in the campaign and there will be challenges and opposition that suit different systems and different players. This being the case there will be more than enough opportunities for all.
I am not about to come down on one side of the Mesut Ozil debate or another but before you all start hurling abuse, rotten eggs or otherwise at each other and questioning Emery's playing of Mesut Ozil out of position can I just take you back a few years to 2003/04?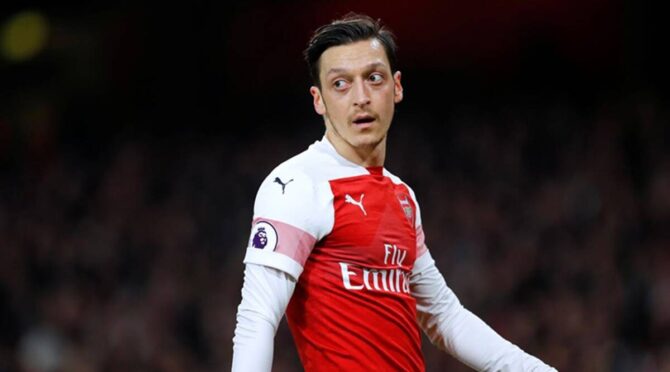 In that season you may recall we won the Premier League without losing a game. I think I missed about 6 of the 19 home games and most of you will be sure to be able to name the 11 players who drove us to glory? When you do you will no doubt write Henry and Bergkamp as our strike force right?
Well, the truth is remarkably different. Dennis at the zenith of his creative powers played in only 28 of the 38 matches in the league and started 21, only just over 50%.
In the first 4 Premier League fixtures Arsenal won all 4 and Wiltord and Henry paired together shared 3 goals each of the 10 we scored. Then Wenger brought in Bergkamp and 2 league draws followed and one goal was scored and that a penalty, after the famous Pires dive at Pompey.
The DB10/TH14 partnership was tried and dismissed as Bergkamp was subsequently left out for the next 3 league game as Wiltord again partnered Henry in our attack. The Bergkampless strike duo saw us capture 3 wins and a further 7 goals.
So let me get this straight, Wenger was partnering Wiltord with Henry ahead of Bergkamp despite the diminutive Frenchman being in the last year of his contract and in dispute. Sadly for Sylvain, he then got injured for the bulk of the campaign.
So what is the point of the history lesson? Well there was no social media in 2003 but believe it or not, we all chatted at games, before games, at work, and in the pub about the footie and I cannot recall any conversations were Gunners were up in arms about Dennis Bergkamp not being selected ahead of Wiltord. This is for many the greatest player in the club's history who had given 8/9 years of service, not a new player who has not even got one high-level full season under his belt. We did not moan that DB was undroppable and nor did he!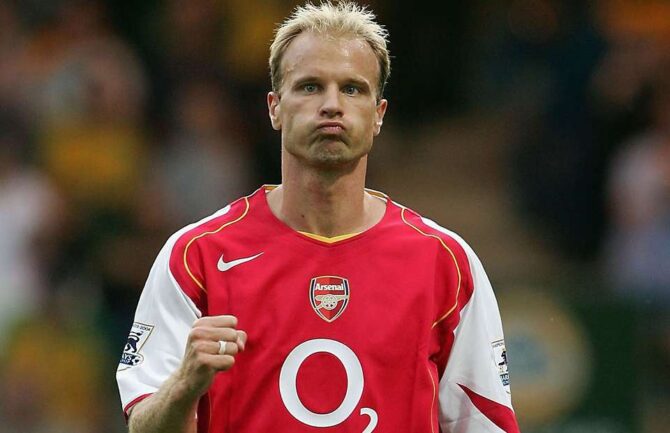 I could go further back to the double campaign of 2001/2. Bergkamp only truly was consistently selected alongside Henry when Pires was injured and Wiltord moved wide. In that glorious season, the legend that was Bergkamp started only 31 games across the 4 competitions and yet Wiltord started 41.
Again I have no recollection of there being campaigns to restore Dennis or play him EVERY game because he was the world's finest Number 10. I guess it was because we were winning then but it should be no different. Bergkamp never complained once and continued to work hard on the training pitch knowing the Manager believed in him as he believed in himself.
The difference is that Bergkamp actually was the world's greatest Number 10 and Ozil is just labeled that by our fans these days. However from what I hear from those at the club who should know Mesut has no airs and graces, just wants to play and he is not bothered about where on the pitch either.
Equally, I am certain like Bergkamp, now your selective memory has been restored, when not selected he will get his head down, work hard to get back in and take his chance when it comes.
In natural ability, Ozil actually is the closest to Bergkamp we have had since the Dutchman retired. He has the touch, he has the vision and he makes passed others simply cannot see let alone execute BUT he must prove he has the character and the attitude of the 'Iceman' too.
As Billy Ocean once told the world Mesut – When the going gets tough, the tough get going! Time to show your mental toughness can match your ability and that is whether you are on the side or not in the side.
Just a few thoughts ahead of a tough away game so Arsenal, Mesut, and Gunners remember Billy – COYG