Being a game-changer and pioneer in any industry is not an easy feat to accomplish.
These are words used to describe truly exceptional products that come only every once in a while.
These are also the same words used to describe the Breo iPalm 520S.
An electric hand massager, the Breo iPalm 520S is considered one of the more unique products out there on the market.
This is mostly because of how it has adopted air pressure technology to change how traditional hot compress massaging is done.
With that said, join us as we try to find out if the Breo iPalm 520s is deserving of all the praise that it's getting.

Read on more below for our breo hand massager review.
What Can the Breo iPalm 520s Do?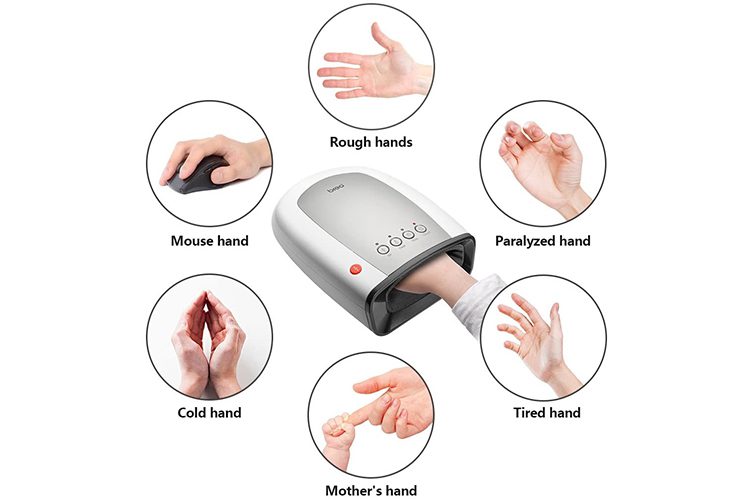 The science behind the Breo iPalm 520s is actually rather simple.
What this versatile hand massager does is that it uses air pressure and heat compress technology to relax all of your tense muscles by applying a gentle, kneading motion on the pressure points located on your palms, as well as of your fingers.
If this all sounds familiar, it's because its design was inspired by traditional Chinese Meridian Acupoint Massage theory.
According to the said practice, the way to relax and release tension on the arms, is to stimulate pressure points found all throughout the palms. In doing so, blood circulation is improved. This then helps promote a relaxing feeling, which brings benefits to the other parts of the human body.
Moving on, what really makes the Breo iPalm 520s unique is how convenient and portable it is.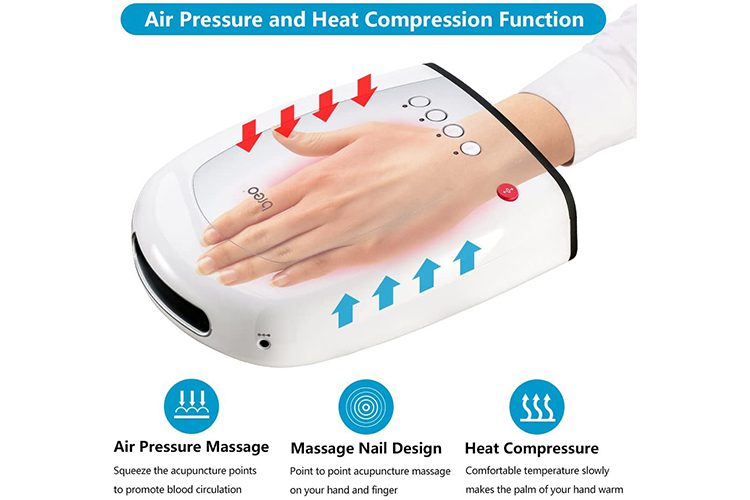 Requiring no more than just 4 AA batteries, the Breo iPalm 520s is so easy to use and lightweight that you won't feel that it's there until you find yourself feeling more relaxed and comfortable. This means that you can use it to make relaxing stuff,such as listening to music and reading a book, even more relaxing.
If you're feeling particularly stressed, the Breo iPalm 520s also comes with 4 intensity pressure levels that you can choose from and set according to your needs at any moment. You can also set how long you want the massage to last via the digital timer.
By default, the Breo iPalm 520s runs for 5 minutes, although you can set it for 10 and 15 minutes.
A hidden function of the Breo iPalm 520s is that it's useful as a hand warmer during the winter.
Because of how it massages your hands and how this generates heat when done, you can use it to keep yourself a bit warm when things get too cold for comfort.
Is the Breo iPalm 520s Worth Buying?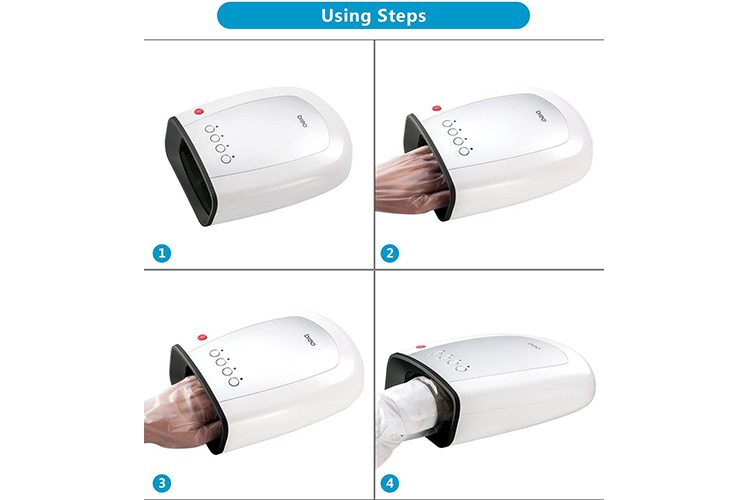 The worth of a particular object weighs heavily on how useful it is for its user.
If you're someone who uses his or her hands a lot on a day-to-day basis, which is pretty much each one of us, then the Breo iPalm 520s is well worth at least a try.
You'd be surprised as to how stressed and tired your arms can be, especially after just a single session from the Breo iPalm 520s. However, what really makes the product sell is that you can use it anywhere. You can use it while commuting to work, or during your breaks at work, or when you're having your morning coffee before heading to work.
Remember, your hands are used much more often than you realize. Any form of relief that it can get, even if only momentarily, is a great help.
Besides, it's not like hand massages are not a proven form of therapy, and while there's really no substitute to getting a physical massage from an experienced masseuse, the fact remains that it's not always possible to get a quality massage.
The Breo iPalm 520s presents itself as an excellent compromise for people who want to constantly enjoy the benefits of getting a hand massage.
By tirelessly kneading and rubbing all of our palm's as, well as that of our finger's, pressure points, you can give yourself a chance to say goodbye to at least a fraction of your day's stress and worries, similar to the effects of an actual hand massage.
You're going to feel less stressed and tense after every session, and if you keep at it, you'll start to enjoy even more benefits.
So, if you're asking if the Breo iPalm 520s is worth it, then it definitely is.
The Breo iPalm 520s is an ideal companion for everyone today, and the best part is that you don't need expert nor professional help to use it. You can give yourself a proper massage right at home.
Breo iPalm 520s Review — Pros and Cons
Of course, even though the Breo iPalm 520s is a wonderful product, it's not without its fair share of flaws.
Here are the advantages and disadvantages of using the Breo iPalm 520s, especially when compared to its competition.
Pros
You can use the hand massager without a battery by plugging it in, but using it with 4 AAA batteries is just as good if not more convenient
The hand massager lets you control the temperature, time, and strength of your massage
Guaranteed improvement in blood circulation
Cons
Compression and heat might not benefit people experiencing tightness in their hands and tendons
Final Thoughts
Is the Breo iPalm 520s good enough to replace an actual hand massage? No. But, then again, there's no product that can do that on the market today just yet.
What it is, however, is an excellent alternative that you can use safely at home.
Designed to soothe, relax, and ease the tension on stressed hands from its day-to-day routine, the Breo iPalm 520s is more than just a gimmicky tool.
It can actually make you feel better after using it, making it a worthwhile purchase, especially for people who work on their hands all day long.