Earlier this decade, the sheer idea of using a projector that could fit inside your pocket was considered absurd. After all, most video projectors were roughly around the same size of a typical notebook, and the more reliable ones were even much larger. But, as technology improved, video projectors also increased in quality while becoming smaller in size.
A good example of this is the Wowoto H8 Video Projector.
Widely considered as one of the best portable projectors on the market today, the Wowoto H8 Video Projector is perfect for when you need to present slideshows and presentations, as well as share photos, and even enjoy movies, with your family, all without having to deal with the cumbersome set-up of larger video projectors.
But, what exactly makes the Wowoto H8 Video Projector so good? What separates it from the rest?
Find out more below in our Wowoto Projector review.
Design and Aesthetics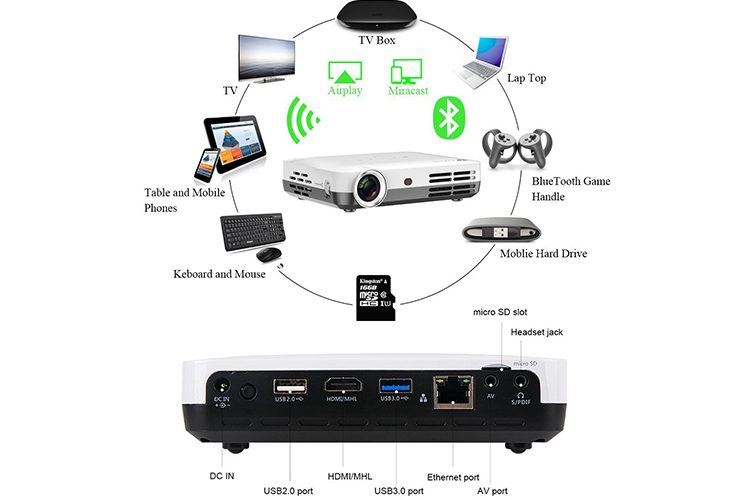 Right out of the box, the Wowoto H8 Video Projector doesn't really impress. It's a rather dull-looking unit. In fact, you could argue that the box itself looks better than the unit inside it.
Once opened, you'll find the Wowoto H8 Video Projector, which is enclosed in a black plastic enclosure and comes with cooling vents on all three of its sides. However, what it lacks in aesthetics, it makes up for in solid feel. Although it's not something that we'd expect to withstand significant falls, it does feel like something that could withstand a few gentle and not-so-gentle bumps.
The Wowoto H8 Video Projector also feels stable when placed on a flat surface. This is mostly thanks to the bottom-mounted rubber feet.
In terms of size, the Wowoto H8 Video Projector isn't exactly what you'd call pocket-sized. Sure, it's significantly smaller than other video projectors. However, we don't expect you to put it inside your pockets just as you would your phone. But, it is portable enough to be placed inside a bag without worries, albeit with proper cushioning for protection.
Just to give you an idea on how large it is, the Wowoto H8 Video Projector should be right around the same size as the iPad Mini. The only difference is that it is at least two inches thicker.
In terms of accessibility, the Wowoto H8 Video Projector doesn't have everything, but it does have what most people would need and expect.
This includes a focus ring on the side, a couple of buttons on the top, as well as a fold-down leg for when you need and want to adjust either the height and/or the angle of the Wowoto H8 Video Projector.
Connectivity Options
Despite its relatively small size, the Wowoto H8 Video Projector comes with everything that you'd need in a video projector.
Of course, the most common choice is the HDMI port, which is present. But, the video projector also comes with a composite input, as well as a USB 2.0 port and a USB 3.0 port. You'll even have access to an SD card slot for when you want to take a better look at photos and videos on your phone or camera.
It's also fairly easy to connect the Wowoto H8 Video Projector to the internet as it comes with built-in Wi-Fi support, as well as an Ethernet port.
Is the Video Quality Good?
Because its native resolution is only 1280 x 800, you can only display 720p HD content before resorting to scaling. Although this isn't the same as 1080p HD, the difference isn't significant. Not to mention, if you plan on using the 720p as a projector for your computer when browsing the web, the fact that it comes with 80 extra pixels comes in handy.
Overall, the display looks surprisingly sharp despite being limited to only a 720p HD resolution.
The video projector also benefits from a 3,500-lumen lamp.
At its brightness, the projector is capable of vivid and clear output, even in darker rooms. Not to mention, because it uses LED backlighting, you can expect the LED bulb of the Wowoto H8 Video Projector last more than 30,000 hours.
The only problem here is that the bulb isn't replaceable, but hey, at its price point, you'd have saved up enough to buy a replacement or even an upgrade, way before you'll need to buy a new one.
Other Noteworthy Features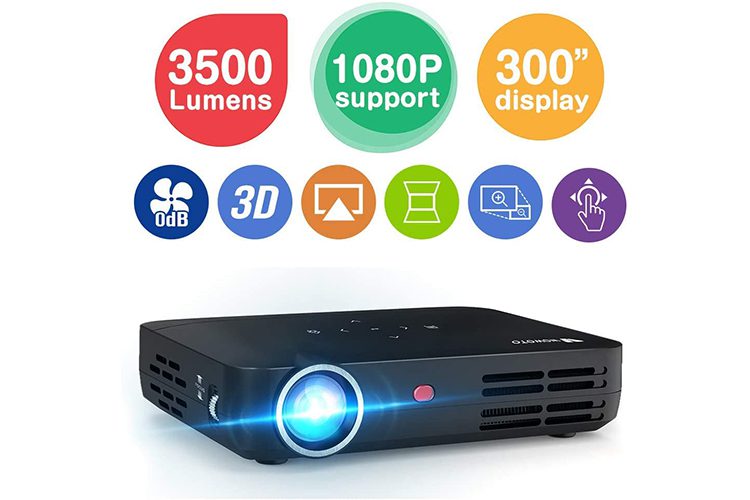 Because it comes with Android OS, as well as a 1GHz Cortex CPU with 1GB of memory and 8GB of storage, the Wowoto H8 Video Projector comes with far more functionality compared to other portable projectors.
Sure, it's not fast enough to run all the apps that you'd want to get from the Google Play Store, but it is still capable of running other less-intensive apps. This includes, among others, browsers, as well as common video streaming apps such as Netflix and YouTube, among many others.
You can also pair the Wowoto H8 Video Projector with another device via the Bluetooth menu.
You can use this feature to use a wireless speaker for better audio, or use it to make your smartphone, tablet, or laptop, as the video source. Additionally, you can mirror your phone's display on the video projector. Meanwhile, features such as USHare, DLNA, and AirPlay, are all supported.
As an added bonus, the Wowoto H8 Video Projector comes with its own customized interface. As a result, navigating your way around the menu is easy. This is far cry from other more budget-oriented portable video projectors.
Final Thoughts
It's hard to find any fault in everything that the Wowoto H8 Video Projector brings to the table.
Sure, the video projector isn't perfect. The Android operating system has its fair share of bugs. The video quality is barely above average too. But, at the end of the day, it all boils down to how affordable the Wowoto H8 Video Projector is, and to get something that's better than it means spending twice if not thrice as much.
If you're on a budget or you simply want to get the most out of your money, the Wowoto H8 Video Projector is easy to recommend.