American Clint Dempsey is a former soccer player who represented the United States of American national soccer team and Major League Soccer side Seattle Sounders before he hung his boots. Clint played for a couple of teams in the Premier League including London club Tottenham Hotspur. Undoubtedly, he is one of America's most successful soccer players.
In this article, we look to unravel the mystery – Clint Dempsey net worth, which has been trending online for a while.
Clint Dempsey Playing Career
Born in Texas on March 9, 1983, Clint played soccer with the Texas kids since childhood; he joined the youth team in the state, as well as the Dallas Texans. At Furman University, Dempsey went on to represent the Furman Paladins men's soccer team. Clint played for three (3) years from 2001 to 2003 and then signed the dotted lines for Major League Soccer side New England Revolution from the summer of 2004 to 2006, scoring 25 goals in 71 matches.
Clint moved abroad in 2007 to play in England for Premier League side Fulham up till 2012 before joining another London side Tottenham Hotspur in 2012 and stayed at the White hart lane until 2013 when he returned to America to pen a deal with Seattle Sounders FC where he played until 2018 when he retired.
He made his debut for the United States' U-20 men's national team in 2002, scoring a goal in 13 matches, two (2) years after, he got his first call-up for the Yanks. He retired in 2017, having scored 57 goals in 141 appearances for the national side.
Clint is considered the highest paid United States footballer of all time. While with the national team, Dempsey represented his country in the 2003 edition of the FIFA World Youth Championship that was hosted by the United Arab Emirates. His senior team debut came in November of 2004 against the Jamaican national side.
Twenty-four months after, Clint was in Germany for the 2006 FIFA World Cup where he scored the only goal of the side in the global showpiece. He has scored the fastest goals in the history of US World Cup qualifiers, the first in 53 seconds against Barbados and the other in just 36 seconds in their 1-2 defeat against Jamaica.
What's Client Dempsey Net Worth?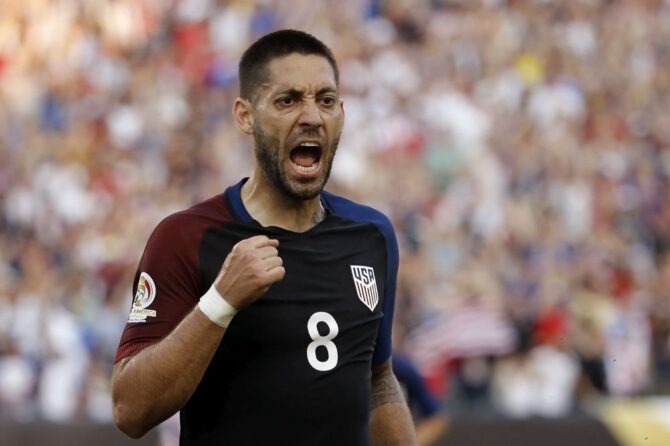 According to widespread reports, Clint Dempsey's net worth is $16 million. He's said to have accumulated his wealth through his talents as a soccer player – playing as a forward and winger.
Clint has successfully amassed a huge wealth through his wages during his playing days and also from a number of endorsement deals and other business endeavors.
Although Clint loves hip-hop music, he hasn't done much in that area although he featured in a Nike advert campaign during the 2006 FIFA world cup.
A large chunk of his wealth has come from endorsement deals with World-class brands such as Lexus, EA Sports (FIFA), Nabisco brand snacks, MLS Degree Deodorants, Oreo Ritz and XFINITY Latino.
Without a doubt, Clint's passion has earned him a lot of money, which can last him a lifetime.