Road trips are amazing with families. However, the last thing you need is a fear of uncertainty about your safety and space. Luckily, the eight-passenger seating model of the New Honda Odyssey is every family's dream.
With almost zero sound and 100% comfortable designs, this car is a technological masterpiece that keeps the family entertained and safe throughout long and short rides. With novel Magic Seat systems and personalized seat configurations, your spouse and kids are given ample space and ventilation for a comfortable ride.
In this article, you will forget all the underlying negative notions and criticism against minivans because the New Honda Odyssey provides a refined experience, solid rides, and sleek handling. Read on to understand what the New Honda Odyssey has in store for your family:
Internal & External Decor
Every passenger is different, and so are the road trips. With about 38% of the world population consisting of joint families, space has become an enormous concern for long drives and road travel. Thankfully, the New Honda Odyssey has incorporated spaciousness in the last row of passenger seats.
The cabins have plenty of room for foldable splits and cargo space for a smooth and happy ride for everyone. Made with leather-trimmed upholstery, the seats offer multiple amenities like optimal ventilation, temperature control, tri-zone adjustability, one-touch, and a power moonroof.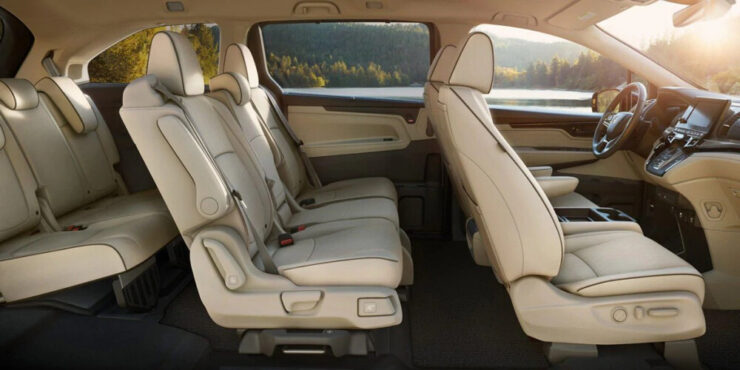 While the second seats are adjustable, the third row allows a 60:40 split with about 158 cubic feet of space. The Cabin Watch and Talk features from dash display systems are paired with these luxurious features. The ability to watch passengers in the dark sets a new standard for safety, where children and toddlers can hear you through quality speakers.
The new model has incorporated all the features a family can hope to have. With sliding doors and tailgate power, kids are given top-notch safety assurance by bringing to the table high-tech features. The intelligent entry and auto lock also shave off a significant portion of the burden.
Advanced Smart Technology
Honda Odyssey is the bear Grylls of high technology that lets you not sweat about any concern. Technological connections are the heart of the automobile industry, and the new Honda Odyssey proved no less. With an incorporated Wi-Fi hotspot that can be operated through the HondaLink App, the Odyssey is compatible with both Apple and Android capabilities.
It also provides driver information display with real-time navigation and lane guidance, perfect for cabs and taxi businesses. It also features an entertainment system display for the bored youth and advanced sound production from the 11-speaker premium audio system.
Family stays connected with wireless phone charging ports and USB ports for up to 5 devices, leaving no passenger behind with dead battery war. With sleek surround sound, audio enthusiasts can enjoy music with multi-zone sounds that create their own world.
Curb Appeal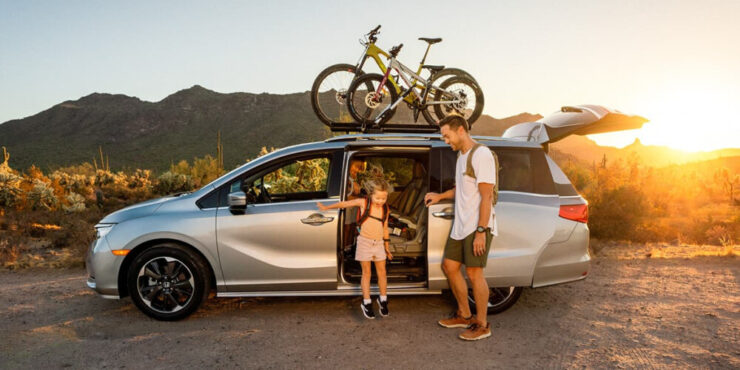 The potential for show-off is part of the vehicle's enjoyment, and the New Honda Odyssey can help you with this. With the automobile's sleek, modern, and aesthetic appearance, you can boast about the car for its elegance and innovative exterior. Featuring colours from glossy black, the car incorporates LED headlights and fog lights that require no effort to switch off and on.
With stylish chrome moulding and dent-prevention designs, the car highlights darkened rear windows, roof rails, and sturdy crossbars. The right dealer can also offer a broad array of accessories that accommodates luggage.
Excellent Versatility
Setting a new standard for versatility and safety, the New Honda Odyssey comes in multiple flagships like the EX, the EX-L, the Sport, the Touring, and the Elite. Investing in them with the right dealers can also provide leasing options if you are not a driving enthusiast or on your budget.
With lower monthly payments and a higher opportunity of purchasing the vehicle at the end of the term, you can also avail of additional support during the lease. The right dealers can help you lease and trade in cars while also arranging finances.
Power Specs & Safety Features
Although the car comes with high aesthetics, safety, and versatility standards, the Odyssey does not compromise on the most critical aspect- performance-and-handling metrics. With 280 horsepower at 6000 rpm, the SOHC 24-valve features a 10-speed transmission. Its injected, V-6 engine allows 4700 rpm with 262 torque forces.
The incredible dynamic for safety also received the IIHS top safety pick and a five-star rating from the NHTSA. With customizable and standard safety options, you can enjoy the benefit of automatic emergency brakes and accurate pedestrian detection technological features. It has adaptive cruise control, BSI, and CMBS. With on-time lane warnings and rear seat reminders, you are the king of the road.
Pricing Per Model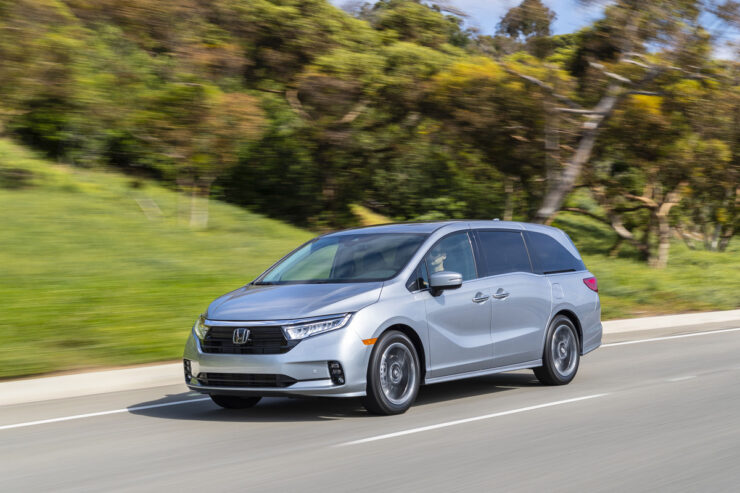 One cannot ignore the high degree of the versatility offered by this model. Coming in 5 sleek and distinct models, you can find one that matches your requirements for an ideal vehicle. When choosing a suitable model, giving equal weight to the price and features is always recommended.
If you want a good starting point, it is recommended to go with EX or EX-L. While the EX model is potent for an initial investment, EX-L adds luxurious appeal and features like leather seating, USB ports, and rear liftgates for a negligible price difference.
Thinking about selling your old car? Check out this blog post where we explain how should you sell your used car.
| | |
| --- | --- |
| Model | Price |
| EX | $38,835 |
| EX-L | $41,905 |
| Sport | $42,705 |
| Touring | $45,945 |
| Elite | $50,965 |
Fuel-Economy And Performance
The Odyssey Honda is a sweetheart. With the crisp change in directions making you feel like you are driving a lightweight car, the fleet-footed and efficient steering is every driving enthusiast's refreshing dream. The minivan highway testing delivers a nominal 30 mpg. These figures show the inherent fuel efficiency that lets you not sweat about the rising gas prices.
Conclusion
And that marks the end of all you need to know about the Honda Odyssey for safe and versatile family road trips. To conclude, the EX is your best bet if you are looking for an initial sign. For longer trips, invest in the Touring or the Elite models. With reconfigurable seating and standard driving seats, the New Honda Odyssey is the best among all the minivans.
The downside of this all-potent vehicle is the heavy seating, stiff rides, large-diameter wheels, and dated entertainment system. The final verdict, however, is that it features a flexible and gorgeous design that harbours high-performance handling and competence. It is the perfect car for families.