When it comes to streaming live tv, there are many options available.  Whether you are familiar with Sling TV or Hulu, it's great to have live tv right at your fingertips with DVR options. 
The only issue is that some of these streaming services come with a hefty price tag.  That's where Philo TV comes into the party.  They offer excellent streaming capabilities at a fraction of the price of their competitors. 
Is there a catch, though?  In this Philo review, we'll give you all of the details to include some competitor options.  Then you can decide for yourself why Philo live tv streaming is taking over the market as a worthy competitor.  
Live TV Streaming Factors to Consider
Deciding on your live tv streaming services takes some time and effort. There are specific attributes that weigh heavier than others when considering which service to purchase. Let's lay some groundwork for you on the essential elements.
Price
While we never fail to mention price as one of our favorite factors, there is a reason. Some costs vary a lot and don't give you the correct value for your money. Sometimes you are only paying for the name, and the features are lackluster. Before spending that hefty price for your live tv streaming service, consider the features offered first and make sure your money is worth it.
User Interface
The user interface must be easy to navigate and provide you with suggestions. How many times have you decided to watch something based on a friend's recommendation? Chances are it has happened quite often and maybe even recently. Some shows like "Bridgerton" and "The Mandalorian" come to mind, right? Having a live tv streaming service that allows for easy search options, excellent suggestions, and overall simple navigation goes a long way.
Library
Certain shows, like the ones mentioned above, are only available on particular streaming services. Your taste will depend on what live tv streaming service you prefer. The more extensive the library, the better chance there will be something for everyone in your family. Be sure to check that out before purchasing.
Viewing Platform
Where is your favorite place to stream live tv? It could be your phone, tv, computer, gaming device, or something else. Make sure that whatever live streaming option you choose will work with your favorite device. Some provide app options, while others don't, so be sure to do your homework on viewing platforms.
Location
Unfortunately, not all streaming services work worldwide. It will depend on where you live if certain live tv streaming services are available. We know that VPNs are an option to get around that, sometimes a streaming service will only work with specific VPNs. Ensure you check on this before you decide on one that isn't available in your area.
Features
Since everyone's situation is different, a live tv streaming service needs to meet your needs, whatever they are. Things like parental controls, streaming on multiple devices, and personalization are just some of the offered features. Take a look at what matters most to you and make sure you get what you require.
Philo TV is becoming more popular as a streaming option due to its affordability and wide range of channel options.  While they don't offer any sports channels or local channels, with over 60 channels offered, you hardly even notice anything lacking.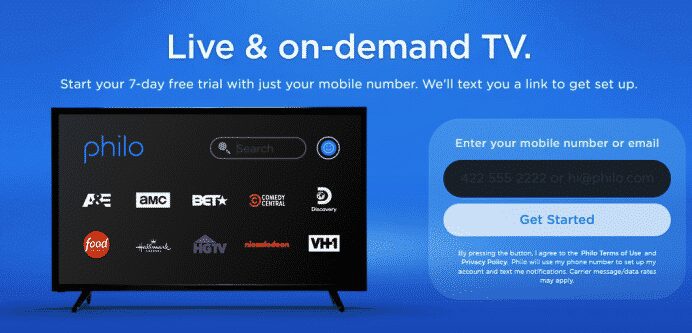 Watch all of the shows and movies you love with Philo TV and record them to your heart's content.  Philo offers an unlimited amount of recording on your DVR and saves it for up to 12 months.  All of the shows are stored in the cloud, so there is no need for more equipment for your DVR storage. 
Most streaming devices restrict how much content you can DVR before having to erase shows.  Also, Philo TV allows simultaneous streams on up to three devices, and you can create up to ten profiles on a Philo account.   Philo TV is compatible with iOS, Android, Roku, Apple TV, Amazon Fire TV, and Chromecast via Android.
Philo's interface is easier to navigate than most of its competitors.  Browse through old episodes right in the channel lineup and search for any movie or show quickly.  Watch your favorite show for up to 72 hours after it airs, so you never have to worry if you forgot to set the DVR. 
Whether it's the History Channel, music channels like BET and MTV, a cooking channel like the Food Network, a kid's favorite like Nickelodeon, or everyone's favorite the Hallmark Channel and Animal Planet, catch all of the shows on these cable channels and so many more with Philo TV service.
Philo TV starts at $25 per month. There are add-ons available for a little extra money. Get Epix for an additional $6 per month. If you want Starz, that is an extra $9/month. The most you would pay with all of the add-ons is only $40 per month. Not too shabby!
Pros
Save shows and movies on DVR for 12 months
The platform is easy to use
Simultaneous streams on three devices
Inexpensive
Cons
No sports channels
Local channels not available
Philo does not provide original shows
Currently only offered in the USA
[lasso ref="philo" id="4397″ link_id="50489″]
Philo TV vs. Sling TV
How does Philo stack up to one of its biggest competitors, Sling TV?  The main differences come down to price, DVR storage capabilities, and sports channels.  Sling only offers 50 hours of DVR storage compared to Philo's unlimited storage option. 
Both offer a few different channels. However, Sling does have sports channels like Fox and ESPN, while Philo doesn't offer those channels.  This may be an issue for sports lovers.  The most significant difference between them is the price. 
Philo TV gives you many options for tv channels and an easy-to-navigate table of contents at a low price.  Sling is more expensive at $35 per month, and that doesn't include add-on options.  We like Philo TV for the channels and features you get for your money.
Philo TV vs. Hulu + Live TV
Another major competitor for Philo TV is Hulu.  One main difference is that Hulu offers a library of content similar to Netflix that can be watched at any time in addition to live tv.  They also have some original content on Hulu.  They come in at only 50 hours of DVR storage, while Philo TV has unlimited storage. 
Probably the most significant difference is the price.  Hulu's lowest price is $64.99 per month, which was over 50% higher than Philo.  It's hard to pay that much more for a service when Philo is known for its extensive channel options, easy-to-use interface, and excellent streaming capabilities.
Ready to pick your Live TV Streaming Service?
Our Philo TV reviews are done.  Get excellent value for your money with the Philo streaming service.  It's time to get those cord-cutters out and say goodbye to cable or satellite television.  With Philo TV, you have cable channels available on all of your different devices and unlimited DVR storage of your favorite shows.  It's really a no-brainer.  Check out Philo's 7-day free trial if you don't believe us.  We'll accept your apology later when you realize we were right about Philo TV.