In African football, the name Samuel Eto can never be forgotten because of the great things he has done in the game. The Cameroonian is one of the most popular names in the continent even after retiring from the game.
His contribution and effort in the game and trying to put the continent on a global stage cannot be underemphasized.
Starting his career at an early age of 16 at Real Madrid and getting to his peak whereby he played for a rival club, Barcelona and won Champions League titles with them is a feat only a few can boost in world football. 
His journey across the topmost clubs in Europe made it an easy task for him to be regarded among the richest footballers.
Samuel Eto's net worth is ranked amongst the top 20 footballers both playing and retired. This is how rich the superstar is. He has earned the right to be on the list for the longevity of his career and playing at the top clubs across Europe. 
Everyone that has followed the story of Eto will not surprise to see him on the list of the richest footballers.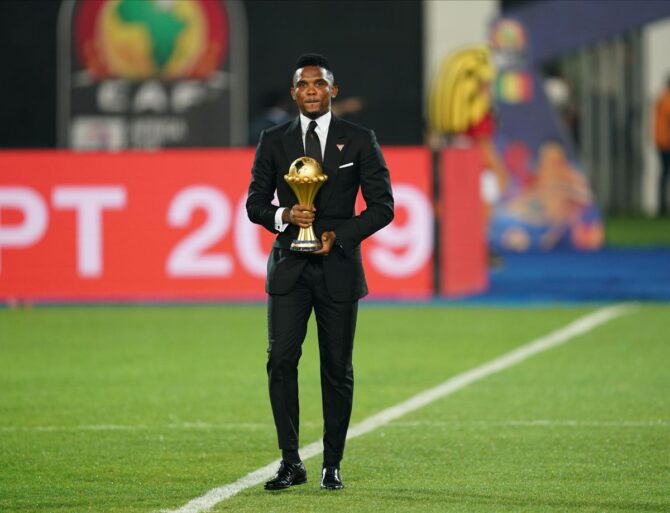 It will be of great interest to know how Samuel Eto's net worth was generated to be $95m. Most are known to come from football, but he has other businesses and endorsement deals that fetch in extra income. A look at his career and business will give a better insight into this.
At the age of 16, moving to Europe to play for Real Madrid was a dream come through for the boy from Cameroon. This was in 1996 when many Africans don't get to play for the biggest clubs in Europe.
The numbers were few compared to what we have now and it's easier now to make it to the top clubs because they have academies set up everywhere in the world to discover talents like Eto and more.
So getting to Real Madrid was a dream but it was never going to be a fulfilled dream if he doesn't get game time at the club. The decision to seek game time made him a journeyman on several loan spells. 
One thing was sure about Eto's talent, he was a player for the top clubs, but because he was young and the demand for instant success at these clubs makes it a great task to be an instant hit. Going to clubs where the pressure was moderate was a wise decision.
Loan spells at Leganes, Espanyol, and Mallorca shaped his career to what it turned out to be. It was at Mallorca that Barcelona discovered him and snapped him up. This was after Real had sold him to Mallorca in 2000 after his impressive loan spell there, netting 70 goals.
In 2004, Barcelona paid €24m for his services from Mallorca. An amount that Real Madrid had a share in it based on the contract he signed while leaving the club for Mallorca. The move to Barcelona was the beginning of his real wealth. 
One highlight of his career was participating in the Sydney 2000 Olympic Games where Cameroon won the Gold medal in the football event. This was a point his career had started taking shape and this medal was a great one to add to his collection of awards.
He was a countryman as he led his country to two African Nations Cup- 2000 and 2002 as he participated in six editions of the Biannual African football event. He also represented his country in four World Cup finals.
Samuel Eto's net worth started getting a feel with that move to Barcelona. Playing for one of the biggest clubs in the world and getting a bumper salary was obviously going to skyrocket his net worth.
 The deals and endorsements that come with playing for a supper club like Barcelona also had a big impact on this.
It was in Barcelona that he became a force to reckon with. An African eye to the world. Playing in the Champions League final and scoring in the 2006 final against Arsenal in Paris was a big moment in his career. 
His personal awards also helped boost his net worth. He won the Pichichi (award for the highest goal scorer in the league in Spain) in 2006 after finishing with 26 goals that season. He also won four African footballers of the year award in his playing career, three consecutively, between 2003 to 2005 before winning the last one in 2010 after leading Inter Milan to a treble.
He spent five years in Barcelona before moving to Inter Milan. Within those five years at Camp Nou, he scored 130 goals in 199 appearances and won three La Liga, one Copa del Rey, two Spanish Super Cups, and two Champions League titles. 
Moving to Inter Milan was a blessing for him as he won another Champions League on his debut season in Italy and playing a key role in eliminating his former club, Barcelona. Eto was a force everywhere he goes to.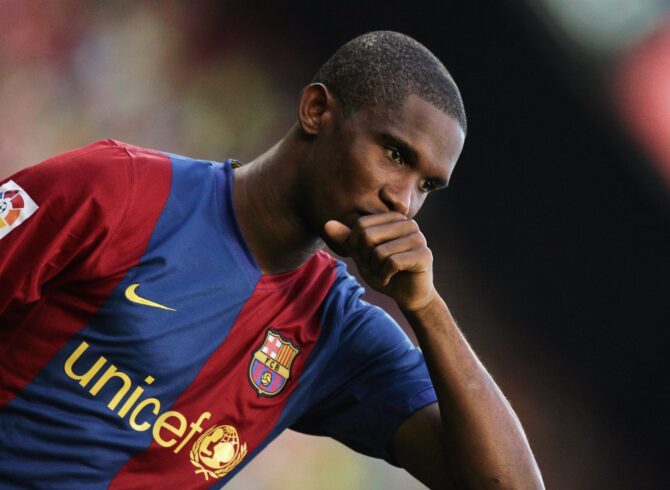 After leaving Inter, he played for other clubs but never made much impact until going to England where he played for Chelsea and Everton. He had a career any striker will dream of as it came with goals, trophies and so much money at the end of it. 
While he was still playing, he enjoyed his money and also invested in businesses. He owns a telecommunication company in his country, Cameroon called Set Mobile. This helps in getting constant cash flow even now that he is not in the game again.
While all his other businesses home and abroad are generating income, he also has a luxury of items he move with. He has a range of cars from Bugatti Veyron to Aston Martin to Rolls Royce to Maybach and many more. He also owns a private jet. Samuel Eto's net worth still does not feel the impact of all this luxury because he has a way of generating them back from the businesses he owns.