Whether it's your first time buying a smartwatch or you're replacing one of your older ones, choosing a new smartwatch is not easy.
Do you like a square or a round face watch? Do you want something that's more geared towards fitness or style? What kind of features are you looking for? Do you want something that works with iOS or Android devices, or maybe both?
It takes a lot of time and careful deliberation to weigh out all of the options before you. And, believe us, there are a lot of options.
With that said, the Spade and Co Smartwatch is facing pretty tough competition. How does it fare? Can it keep up with its competitors? Is it better than them? Read on more below to find out.
Size and Design

The 2020 edition of the Spade and Co Smartwatch for Android and iOS devices comes in just one size. Its official measurements are 42mm (L) x 37mm (W) and 11mm (T), with a net weight of 38g.
Design-wise, it looks more like a smartwatch than a traditional wristwatch, which can be a deal-breaker or a must-have feature for some. It all depends on what you think.
The 2020 Spade and Co smartwatch can also fit comfortably on wrists measuring 140mm and up to 220mm. What matters here, however, is that it only weighs 38g. This puts it right up there as one of the lightest smartwatches on the market that isn't too thin or too slim for most people's taste.
Svelte if not understated, the 2020 Spade and Co smartwatch doesn't come with multiple case colors and strap options. However, alternative replacement bands and/or straps are available in black, red, and blue colors.
The lack of variety is arguably one of the biggest weak points of the Spade and Co smartwatch. Still, three colors are not half-bad and should let you switch up your style every now and then when you feel like it.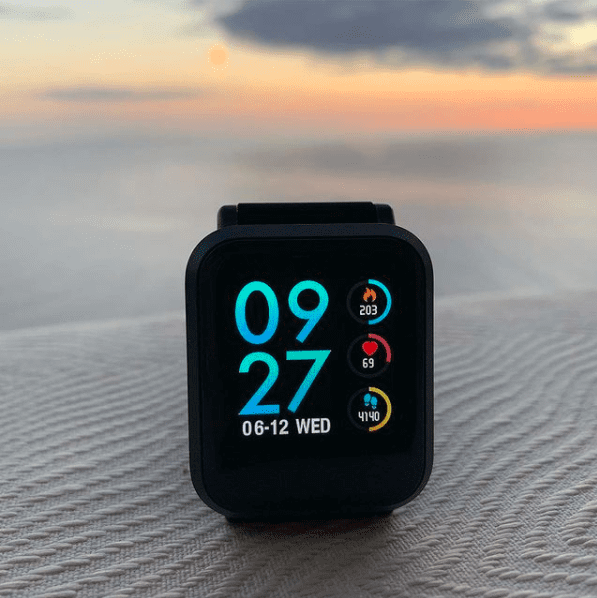 The high-end LCD screen is surprisingly rich in color and extremely bright, but not too bright to hamper visibility. It's clear enough to let you see what's on the screen, even in broad daylight. Not to mention, screen notifications aren't the only way to receive updates.
In addition to this, you can be notified of calls and messages via vibration. Additionally, the watch can even be set to remind you to move after long periods of not moving around, as well as for important moments and events. Isn't that just great for us, that spend most of the day set in front of a computer?
This way, you're always connected and notified of any important matters.
Speaking of updates, you'll want to wear the Spade and Co Smartwatch while you're sleeping. This is because of how useful its sleep-tracking features are, including 24/7 heart rate tracking.
Because it's relatively light at just 38g, you won't have to worry about having to wear a rock on your wrist while you're resting and relaxing at night.
If you're worried about durability, don't be. The 2020 Spade and Co Smartwatch is water-resistant, although it's still not recommended to go swimming or diving while wearing one.
Also read: Best Rugged Smartwatch
Fitness-Related Features
One of the biggest benefits of wearing a smartwatch is real-time updates of your current health status.
With the 2020 Spade and Co Smartwatch, wearing it every day can help you keep track of your lifestyle. This includes automatic tracking of your sleep, especially the duration.
This way, you'll have comprehensive data of the quality of your sleep, and because the watch can last 30 days on standby while only taking up to 2 hours max to charge, there's no need to worry about the smartwatch running out of juice anytime soon.
Of course, you didn't buy a smartwatch to just keep track of your sleeping pattern.
For fitness, the 2020 Spade and Co smartwatch have you covered as well.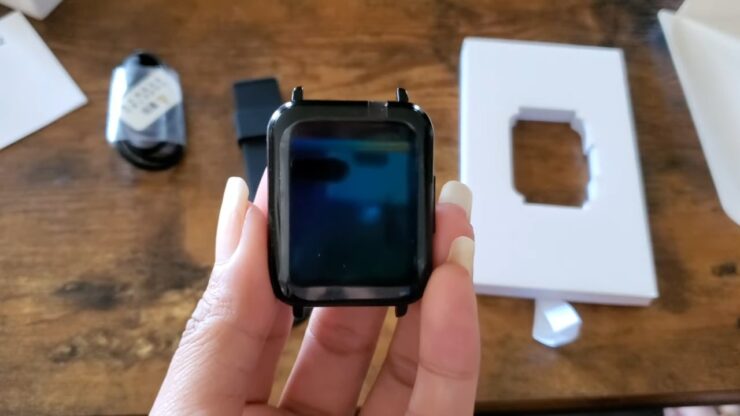 With its accurate and reliable all-day activity tracking features, you'll have access to all sorts of data. This includes all of the calories that you burned, how many minutes you were active, how many steps you took and how far you traveled, as well as how your breathing rate has been throughout the day.
You can also connect the Spade and Co Smartwatch with the GPS on your smartphone.
By doing so, you'll gain access to a variety of additional features. This includes support for as many as 14 different sports activities with its multi-sport modes, such as walking and running, as well as basketball, badminton, tennis, hiking, and even a typical gym workout routine.
Compatibility
Perhaps the biggest strength of the Spade and Co Smartwatch is its compatibility with both iOS and Android devices.
Not many smartwatches can claim such compatibility. However, this smartwatch can. In fact, the manufacturers claim that the smartwatch works well with Android devices with Android 4.4 and up installed, as well as iOS devices with iOS 8.0 and up installed.
This means that you won't have to choose between a single operating system for your smartphone.
Also read: Best Android Smartwatch | Best Budget Smartwatch 101
Final Thoughts
With a simple, sleek, and unisex design, Spade & Co caters to a relatively large audience.
Not to mention, because it sells directly to consumers, it's able to undercut most of its competition and maintain its quality without raising the price.
This means that it's one of the most affordable yet feature-packed smartwatches on the market today.
Armed with a 30-day battery life, as well as a litany of features that's parred for the course for most smartphones, as well as a free app that's compatible with both Android and IOS devices, the Spade & Co smartwatch offers a lot for less.
If you're not sold on the smartwatch trend yet but want to try out something that has a little bit of everything without costing you an arm and a leg, this is the smartwatch we recommend.