Gift-giving brings a lot of stress on some of us. We that are meticulous in our planning and execution tend to be a lot more winded when searching for a gift and presenting it.
When it comes to giving presents/gifts inside of a corporation for your co-workers, boss and anyone else in between, this can be a little tricky and it needs a bit more planning and taste. This is why we decided to make this article and talk to you about some rules when it comes to corporate gift giving as well as to give you some gift ideas. The first stop you will want to make is the Alcohol Gift Sets which are probably the bullet-proof plan when it comes to gifts inside of a corporation.
But let's not get ahead of ourselves and let's talk about those rules first. There are some dilemmas, and some question that is usually asked and we will try to answer all of those and make your next gift hunt a lot easier. Without further ado, let's dive straight into what is appropriate and what isn't.
So as we already mentioned, giving and receiving gifts, as well as all kinds of hospitality, is a normal part of doing business. There isn't and there shouldn't be any wrong or unethical about being the one that will gift someone or receive a gift yourself. What is important is the fact that this is all fine given we all follow strict standards and rules to avoid any sort of unethical situations.
The definition of a gift is that it is a thing that you give another person to give them pleasure or show gratitude. Hospitality on the other hand is kind treatment in the form of meals and entertainment offered to a guest.
Now, what should a typical business gift include? Well the answer to that is simple, and most of you probably received some of these during your work period, and those are:
Mementoes
Promotional gifts
Sample products
Souvenirs items for special occasions (birthdays or holidays)
Hospitality should include things like:
Source: revenuesandprofits.com
Meals in the normal course of doing business
Lodging related to business
Entertainment in a form of shows, sporting events, some sort of special events and so on.
VIP treatment and/or service
Now that we have the essentials boiled down we should talk about something else and that is the fact that many companies have limitations in the form of the amount that can be spent on a gift or hospitality, as well as the fact that many government institutions allow very limited to no gift giving at all. Now that you know all this let's discuss what you can gift to someone in your corporation, regarding whether it is appropriate and the time when it's being gifted.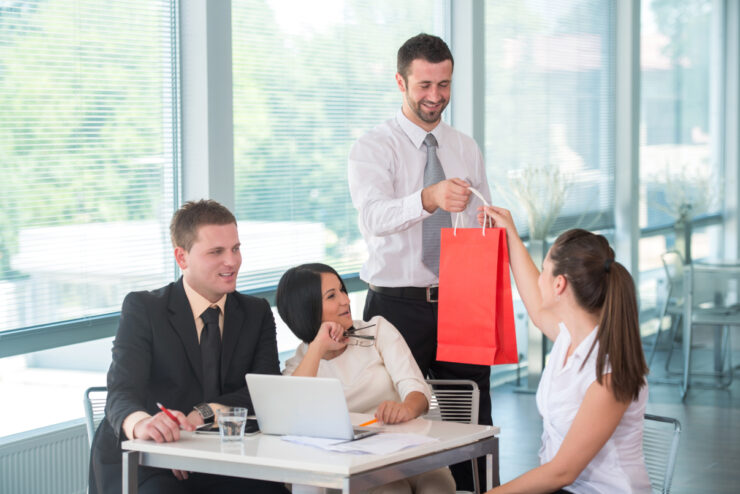 When we are talking about appropriate gifts there are plenty of those around. You can go for literally anything but there is something you have to consider that will foster your relationship with your co-workers and/or employees. When you get a gift that fosters this then you will benefit from improved workplace happiness, more morale, increased job satisfaction and a feeling of unity. In other words, corporate gifting should revolve around positives and the right corporate gift will make your team motivated, loyal, productive and engaged.
Now there are also some dos and don'ts of this and you should know what to do and when.
If there is a need for gift giving find a well-suited present, thought out and caring. Smaller gifts that are related to individuals' needs are always the best because they show care and they are enjoyable.
Never pick a favourite among your staff or colleagues because that is never a good thing. if multiple people have something happening make sure you get all of them at least a small thing and never prefer one or two over many. You create a rift between them and between you and them.
Source: globalnews.ca
When gifting an entire staff for a success or a job well done then make sure you treat everyone in the office. Snacks are always a good idea but smaller gifts everyone like are your top choice.
Don't flood your staff with promo material for success. That is never a good idea and if the team is expecting some sort of reward, promo material in any form is not the solution.
Gifting someone outside of your company can be a relative minefield to navigate. It is not appropriate by any means it is just difficult to hit the right thing you can gift to some business partner and avoid that gift looking like a bribe, a favour that they need to repay or anything in between.
You also can't go too cheap and simple because there is that respect thing where they might end up thinking that they are not important and that you gifted something just to close the deal. As you can see this is a bit tough to make ends meet, but there are some general rules like – the recipient shouldn't be important but the gift should be. Get something small and branded but not cheap. This is always the best bet.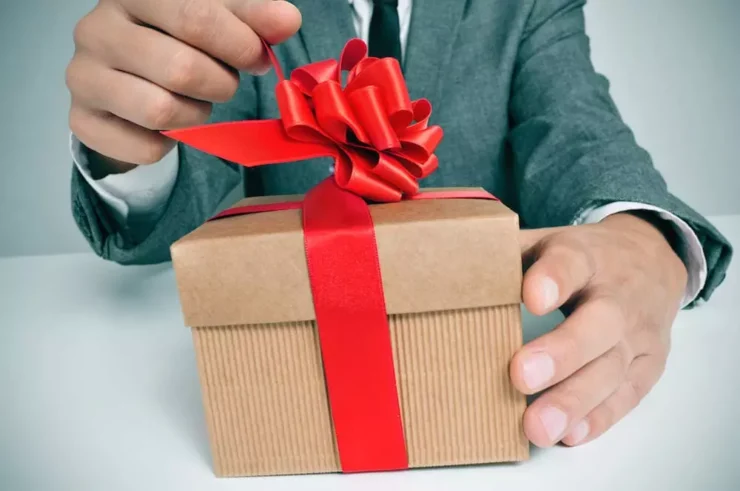 The bottom line here is to never go overboard with gifts within your company or outside of it. Make sure you get something meaningful and enjoyable that will not appear pompous and blown out of proportion. never gift anyone from the government in any way because this can mean so many other problems and issues.
When it comes to your workers and their gifts, aim for those that will not alienate them from you and the company and aim for the gifts that are simple, meaningful and just enough. This way you will create a healthy environment and a good team that will feel right at home.
Gifts are difficult and, sadly, you have to have a set of rules on what to do and what not to do but hey, this is the silly world we have created and in it, we have to live by the rules, no matter how stupid they sometimes are.