Indoor Golf Simulators have revolutionized the way golf enthusiasts practice and play golf. With the advancement of technology, golf simulators have become more accurate and realistic, providing golfers with an immersive experience.
In this guide, we will cover everything you need to know about indoor golf simulators, from how to set them up in your basement to how accurate they are compared to real golf. We will also compare golf simulators to outdoor driving ranges for practice.
How to Set up a Golf Simulator in Your Basement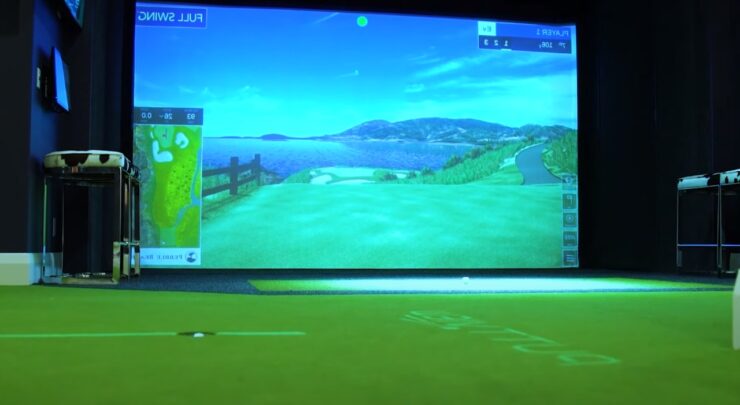 Setting up a golf simulator in your basement can be a fun and exciting project. The first step is to choose the right space in your basement that is free from any obstructions. You will need a minimum of 10 feet wide by 10 feet long of space to set up your simulator.
Once you have chosen the right space, you will need to install a golf simulator screen, projector, and golf simulator software. Calibration is also crucial to ensure accuracy. Follow the instructions provided by the manufacturer to calibrate your simulator properly.
Utilizing Indoor Golf Simulators for Skill Improvement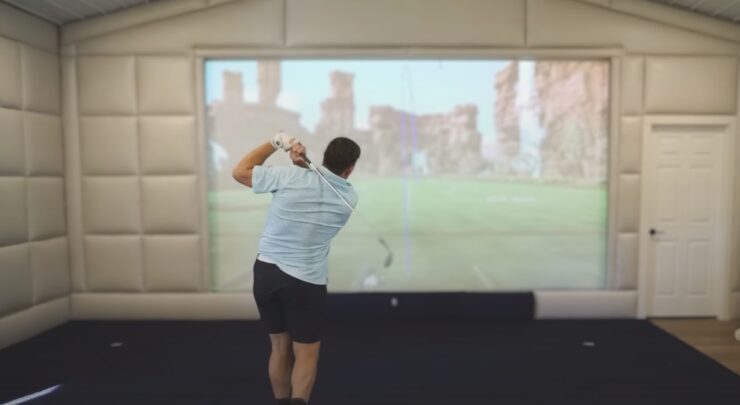 Indoor golf simulators not only offer a fun and convenient way to play golf year-round but also serve as powerful tools for skill improvement. Whether you're a seasoned golfer looking to fine-tune your game or a beginner seeking to learn the ropes, these simulators provide valuable data and feedback to enhance your golfing abilities.
Analyzing Swing Data: Indoor golf simulators employ high-speed cameras and sensors to capture every aspect of your swing, providing detailed data on club head speed, ball launch angle, spin rate, and more. Analyzing this data helps identify areas for improvement and allows you to work on specific aspects of your swing.
Customizing Practice Sessions: With the ability to access instant feedback, you can customize practice sessions to target specific skills. Focus on driving accuracy, iron play, or putting techniques – the simulator offers a wide range of drills and challenges to address your weaknesses effectively.
Working with Instructors or AI-based Coaching: Many indoor golf simulators integrate with coaching programs, allowing you to receive expert guidance. If you prefer human interaction, you can collaborate with golf instructors

who can analyze your data remotely and provide personalized feedback and training plans.
Tracking Progress and Setting Goals: The simulator records your performance over time, enabling you to track your progress and set achievable goals. By comparing previous data, you can measure improvements and adjust your training strategies accordingly.
Simulating Real Course Scenarios: Indoor golf simulators offer virtual replicas of renowned golf courses worldwide. Playing these courses provides an opportunity to practice in different environments and weather conditions, which can improve your adaptability and decision-making skills.
How Accurate Are Golf Simulators Compared to Real Golf: 
One of the most common questions asked about golf simulators is how accurate they are compared to real golf. The answer is that it depends on the quality of the simulator. High-end golf simulators can be incredibly accurate, providing golfers with a realistic experience. However, lower-end simulators may not be as accurate and may not provide the same level of realism. It is essential to choose a golf simulator that is accurate and provides accurate feedback.
Maintenance and Troubleshooting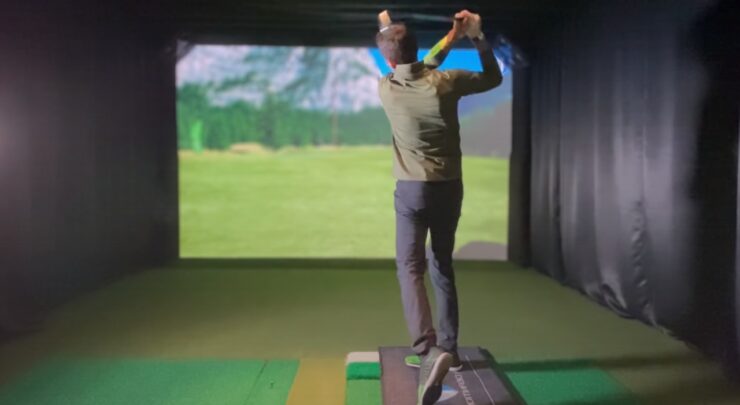 Keeping your indoor golf simulator in top condition ensures a seamless and enjoyable experience. Regular maintenance and swift troubleshooting are essential to avoid disruptions and optimize performance.
Regular Maintenance:
Cleaning: Dust and debris can accumulate on sensors, cameras, and projector systems, affecting accuracy. Regularly clean these components following the manufacturer's guidelines.
Calibration Checks: Perform calibration checks to ensure accurate measurements. Calibration may drift over time and impact the simulator's precision.
Software Updates: Keep the simulator software up-to-date to access new features, improved performance, and bug fixes.
Inspection of Cables and Connections: Check all cables and connections to prevent loose connections or potential damage.
Common Issues and Troubleshooting:
Sensor Alignment: Misalignment can lead to inaccurate data. Double-check the sensor positions and make necessary adjustments.
Software Glitches: If the simulator software encounters errors or crashes, restart the system and check for updates.
Projector Focus and Image Alignment: Adjust the projector focus and ensure the image aligns correctly on the screen or hitting the surface.
Unresponsive Controls: If controls or buttons are unresponsive, check for loose connections or replace batteries if necessary.
Contacting
Customer Support:
Manufacturer Support: If you encounter persistent issues, reach out to the simulator manufacturer's customer support for guidance.
Professional Assistance: For complex technical problems or hardware issues, consider seeking professional help from trained technicians.
Scheduled Maintenance:
Routine Check-ups: Consider scheduling periodic maintenance with professionals to inspect and fine-tune the simulator for optimal performance.
Replacement Parts: Replace worn-out or damaged parts with genuine components as recommended by the manufacturer.
Golf Simulator vs. Outdoor Driving Range for Practice: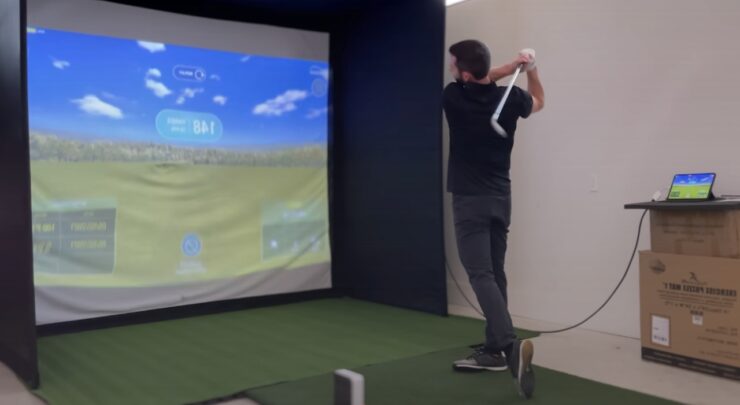 Golf simulators have become increasingly popular among golfers who want to practice their swing and improve their game. However, some golfers still prefer outdoor driving ranges for practice. While both options have their advantages and disadvantages, golf simulators offer several benefits that outdoor driving ranges do not.
Golf simulators provide golfers with a controlled environment, allowing them to practice their swing and work on specific aspects of their game. They also allow golfers to play rounds of golf on virtual courses, providing a unique and exciting experience.
Conclusion:
Indoor golf simulators have become a popular choice for golf enthusiasts who want to practice and play golf in the comfort of their own homes. With the advancement of technology, golf simulators have become more accurate and realistic, providing golfers with an immersive experience.
Setting up a golf simulator in your basement can be a fun and exciting project, and it is essential to choose a simulator that is accurate and provides accurate feedback. While golf simulators offer several benefits over outdoor driving ranges, it ultimately comes down to personal preference.
Whether you choose to practice on a golf simulator or an outdoor driving range, the most important thing is to practice consistently and work on improving your game. With the right equipment and dedication, you can take your golf game to the next level.