Regardless of your relationship with your vacuum cleaner, clean carpets and floors make a comfortable house. Whether it's pet hair, crumbs, dust, or dirt, it brings a sense of relief when a vacuum has the incredible suction power to get your house clean in a matter of minutes.
While heavy uprights and bag vacuum cleaners are still available on the market, a cordless vacuum like the LG CordZero is an excellent combination tool to clean floors quickly and efficiently. In this review, we'll give you the low down on the LG cordless stick vacuum and all it has to offer.
What is a Cordless Stick Vacuum Cleaner?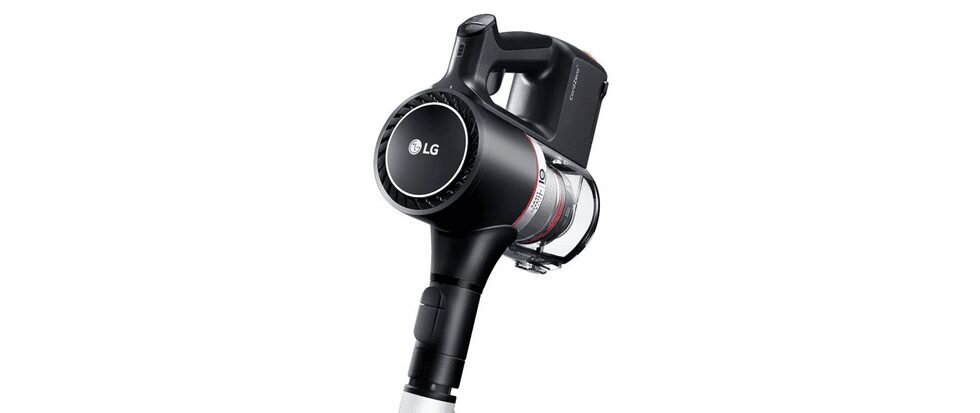 A cordless stick vacuum makes cleaning your floors a little bit easier. They are lightweight, battery-operated, stick vacuums that allow you to clean up your floor quickly.
Depending on the model, they feature a charging station and sometimes an extra battery. The lack of a cord gives you free rein to vacuum anywhere with easy maneuverability, eliminating restrictions. It's a fan favorite for a quick clean-up or your weekly vacuum.
Let's look at how the LG CordZero stacks up in the world of stick vacuums.
Is the LG CordZero Good For Hardwood Floors?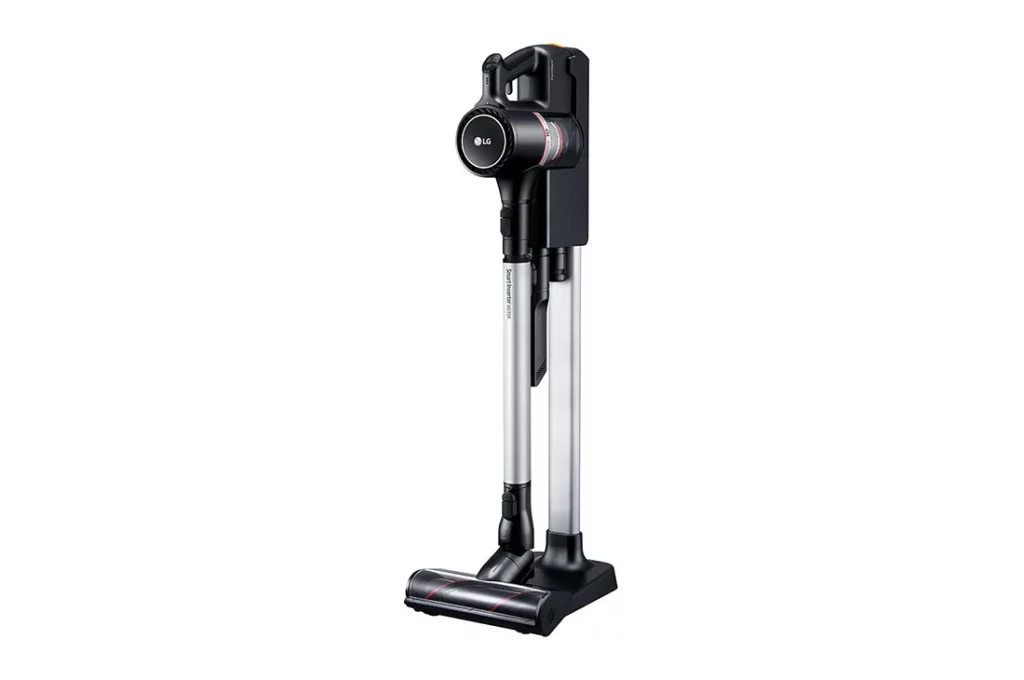 We love the LG CordZero for hardwood floors, no matter what version you decide to purchase. For instance, the LG CordZero All-In-One features a universal power nozzle that works for hardwood floors and carpets.
Fine particles like dust and dirt are easily removed with the All-In-One. However, larger debris like coffee grinds, kitty litter, sand, and sugar are also removed with the power floor nozzle. Since the nozzle is close to the ground for better suction power, large debris like cereal is missed.
Other appendages provided with the All-In-One, like the crevice or 2-in-1 combination tool, can be easily switched out to clean up larger debris.
The LG CordZero A9 has excellent capability on hardwood floors too. Past versions of this stick vacuum came with a soft roller attachment with excellent steering capabilities with a slight twist of the wrist.
The soft roller allowed for easy pick-up of debris like pet litter, coffee grounds, or other dirt and dust. The newer versions of the LG CordZero A9 now feature the same universal power nozzle as the All-In-One version. This combination tool makes it easier to transition from hardwood to carpet without stopping to change the nozzle.
To take it a step further, the LG CordZero A9 Kompressor stick vacuum comes with a power mop option. After you have removed the dust and debris from your hardwood floors, it's time to mop.
There's no need to buy a mop with the A9 Kompressor as it comes with a power mop nozzle with microfiber pads. Two sets of pads are included and are easy to clean for future mopping. A removable water tank makes it easy to refill and mop once your vacuuming is complete. It's a delight for hardwood floors with a vacuum/mop combination.
Let's Talk Pet Hair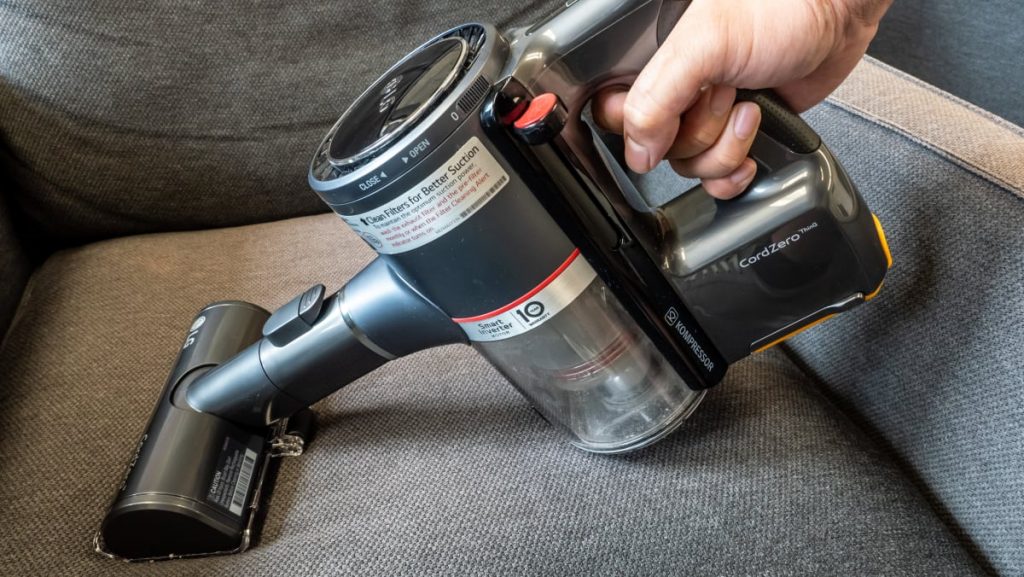 We love our pets, but having pet hair all over carpet and upholstery is not the best. Unlike dirt and debris, pet hair sticks to the rug making it harder to remove.
For this reason, a stick vacuum with features like turbo mode, converting to a handheld vacuum, a power mini tool, and a power punch nozzle is essential. The good news is the LG CordZero has all of those options.
Turbo mode allows for a more powerful suction option. LG makes it easy to switch to turbo mode with a simple push of a button at the top of the handle. There's no need to keep holding a trigger, which can agitate your hand after prolonged periods.
A cordless stick vacuum that transitions to a handheld vacuum is essential for people with furry friends. Since the LG CordZero doesn't have a flexible wand, breaking it down into a handheld vacuum makes it easy to remove pet hair from couches, cars, or beds without losing suction power. Removing the wand and converting it to a handheld option is quick and easy.
The LG CordZero A9 features a power mini tool. Don't be fooled by the name. The mini tool allows you to clean tight spaces like stairs and helps to get pet hair off furniture easier.
Since it's not just pet hair but also pet dander that can be a problem with pets, the power punch nozzle is available with the CordZero Kompressor A9. This combination tool uses a brush and a punching mechanism to remove pet hair. The device vibrates to release dust and dirt easier for better cleaning on furniture or bedding.
A slight drawback when vacuuming pet hair with the LG CordZero is pet hair sometimes gets stuck in the dust bin. However, we don't feel like this is a significant issue, as a good dust bin cleaning will remove that issue.
The bottom line is pet hair is gone once the LG CordZero steps into the boxing ring.
Battery Life
A significant hesitation for cordless stick vacuums is fear of low battery life. A vacuum isn't helpful if it can only be used for ten minutes at a time and then requires charging.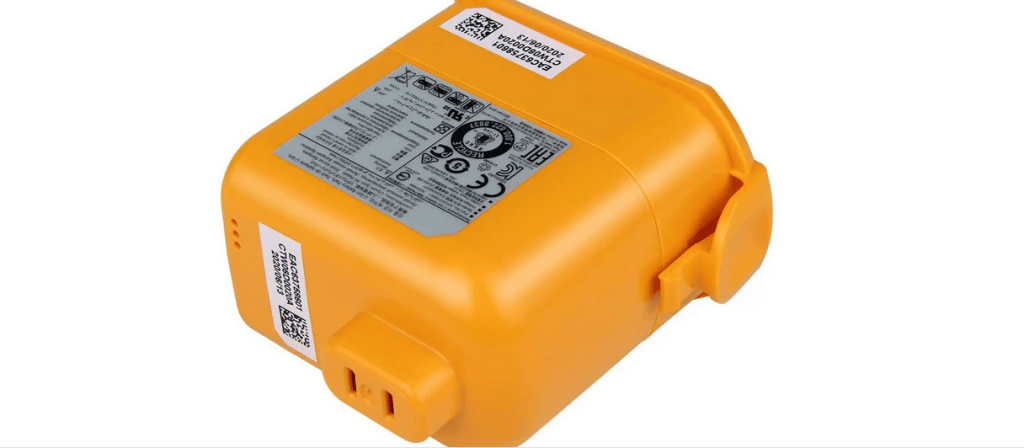 LG realized the problem that some vacuums had with battery life and took things a step further. The LG CordZero Kompressor A9 runs smoothly for up to 60 minutes in normal mode before requiring time on the charging stand, and it comes with an extra battery.
Two lithium-ion batteries allow you to vacuum without worrying about losing a charge. Simply replace the battery with a charged one and keep cleaning.
When this cordless stick vacuum is run in power mode, the battery life dwindles to closer to 30 minutes on one charge. If things are filthy and turbo mode is set the whole time, the battery life decreases to only 7 minutes per charge.
Cleaning the Cordless Stick Vacuum
It's common for vacuums to have lifetime filters you can wash. However, the LG CordZero cordless vacuum takes it a step further. Not only can you clean the HEPA filter, but you can also clean the pre-filter and the removable cyclone. Running them under water and removing debris leads to a vacuum running smoothly for years. The LG CordZero comes with an extra pre-filter when it needs to be changed and debris bags.
An LG Vacuum That Works
If you have been searching high and low for cordless vacuums, we encourage you to try out the LG vacuums. It's cordless and has a second battery for extra vacuuming time. It features multiple tools for specific cleaning needs and works great on low pile carpet, high pile carpet, and hardwood flooring. The handheld mode means you can clean your car or furniture too. It's time to embrace the cordless vacuums like we embraced Smarthome capability. It just makes our lives easier.